World Cancer Day 2018 – We Can. I Can.
"Cancer is a word, not a sentence". On this World Cancer Day, we would like to let you know that, just like any other disease it is curable if diagnosed early. Research in the field of cancer has progressed tremendously with new and sensitive techniques of detection being developed and more drugs being discovered. The stigma associated with this disease is dissolving fast as the awareness about this disease is increasing in people. The term cancer refers to a group of diseases, in which there is abnormal growth of cells beyond their usual boundaries, so that they can invade neighboring parts of body and/or spread to other organs.[Source]
Cancers are also called malignant tumors and neoplasms. It has the ability to affect almost any part of the body. It can be divided into numerous anatomic and molecular subtypes, requiring their very own management strategies.
Cancer has emerged as the second leading cause of death worldwide. It claimed the lives of nearly 8.8 million people across the world in 2015. This implies that nearly every family in the world is touched by the cold hands of this global killer. It is responsible for causing 1 out of every 6 deaths globally, and nearly 70% of its victims are people living in low- to middle- income group countries. This is due to pathology services being available to only 26% cancer patients in low-income countries as compared to more than 90% in high-income countries. Lung, stomach, liver, prostate and colorectal cancer are the most common among men while lung, cervix, stomach, colorectal and breast cancer are commonly found among women.
Cancer is also pressing the economic nerve of countries, increasing the health-care expenses to a whopping 1.16 trillion USD annually in 2010.[Source]
ADVERTISEMENT
For increasing the awareness and education about cancer, in order to save millions of people from preventable deaths each year, 4th February is observed as the 'World Cancer Day'. On This day, every year, WHO reminds everyone that we have the capacity to reduce the burden and improve the survival rate and quality of life of millions of people struggling everyday with this deadly disease. 2018 is an important year for cancer control as countries across the world have come together to fight this disease and save millions of precious lives.[Source]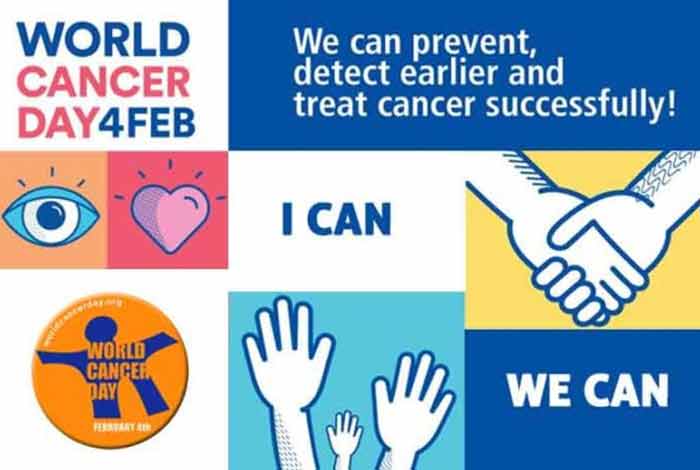 WHO identifies that detecting cancer in its budding state is extremely important to nip it before it becomes gigantic. It greatly helps in reducing premature deaths and ensuring universal health. Most of the cancer cases are detected too late, increasing the difficulties to cure it successfully. Health systems need to be strengthened for ensuring accessibility of early diagnosis and high-quality care for cancer patients, thereby increasing their chances of survival. Early detection also helps in reducing the financial impact of the disease. People can even continue working and support their families if treatment is made available to them in time.
The tagline of this year's world cancer day "We can. I can." enlightens people how everyone, as a group or individually can contribute in reducing the global burden of cancer. Some of the key actions that can be taken are:
| | |
| --- | --- |
| We Can | I Can |
| Inspire, take action | Make healthy lifestyle choices |
| Prevent Cancer | Understand that early detection saves life |
| Create healthy schools | Ask for support |
| Create healthy workplaces | Return to work |
| Create healthy cities | Take control of my cancer journey |
| Support others to return to work | Love and be loved |
| Challenge perceptions | Make my voice heard |
| Improve access to cancer care | |
| Shape policy change | |
| Build quality workforce | |
| Increase investment in cancer control | |
| Join forces to make a difference | |
Around the world, numerous festivals, seminars, walks, public information campaigns and other events are being organized to raise awareness among people and educate them about the benefits of early screening and risk factors that increase their chances of getting cancer like:
Tobacco use including cigarettes and smokeless tobacco
Unhealthy diet with low fruit and vegetable intake
Sedentary lifestyle
Alcohol use
Sexually transmitted HPV-infection
Infection by hepatitis or other carcinogenic infections
Exposure to ionizing and ultraviolet radiation
Exposure to urban air pollution
Exposure to indoor smoke from household use of solid fuels.
The three key steps for early detection of cancer are:
Increasing public awareness about different cancer symptoms and encouraging people to seek treatment when the need arises
Encouraging investment for strengthening and equipping health services and training health workers for making timely and accurate diagnosis
Ensuring safe and effective treatment being accessible to cancer patients, including pain relief, without incurring much personal or financial hardship
Through these initiatives, effective programmes can be implemented at different levels to encourage community engagement, improve diagnostic and referral capacity, and ensure timely access to high-quality treatment.
This year, a new Unity Band is being released by the Cancer Research, UK in order to unite people across the globe in our fight against cancer. Previous such initiatives included #NoHairSelfie, which involved people shaving their head in order to raise money and show compassion for cancer patients. The bands are available in pink, purple and blue color and feature a design representing unity and support for cancer patients. Even the Empire State Building in New York shall stand in support of the cancer patients by drowning itself in the hues of blue and orange, seventh time in a row.
World Cancer Day, which was founded by the Union for International Cancer Control (UICC) in order to support the goals of World Cancer Declaration, 2008, has now grown into a global movement. It has been extremely successful in fulfilling its goal of raising awareness and encouraging its detection, prevention and treatment. We are hopeful that the primary goal of celebrating World Cancer Day, to significantly decrease illness and death due to cancer, will be met by the year 2020.
ADVERTISEMENT