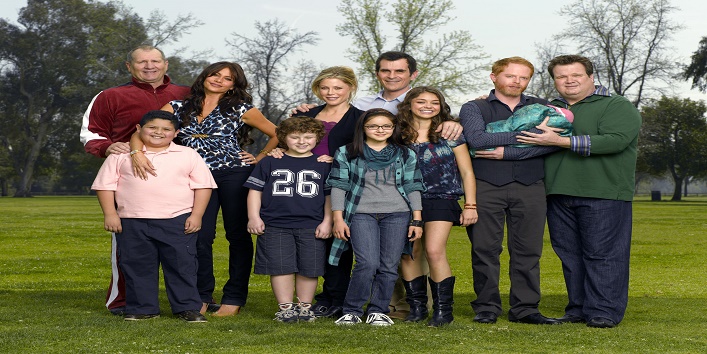 In this ever-changing world which turns out to be problematic for every person one day or some another day, watching out comedy series and movies can be the best way we can suggest in overcoming the stress. Who doesn't like comedy series? Everybody does, many of us are fond of watching comedy entertainers and our stress almost disappears after that.
Comedy series is quite helpful for us in forgetting the 'hardships' of life as they make us laugh up to that extent at which all the sorrows wash out. This is the main reason beyond the success of comedy shows nowadays.
Here's the list of the top 10 comedy series which you must watch.
10. The Cosby Show
The Cosby Show will make you lie on the floor laughing breathlessly. This is an African American entertainment focussed comedy series that ran successfully for almost 7 seasons, the first show of this series came during 1984. It is mainly focussed on Cliff Huxtable and the Huxtable's family members, the role of Cliff is portrayed by Bill Cosby. It revolves around political issues, matters like teenage pregnancy and racism.
This was the biggest hit during the 1980s, as illustrated by a TV guide and the level of its popularity can be estimated by looking at the total number of series produced. Bill Cosby is believed to be the king of comedy and entertainment also designated as 'Father of comedy', and all these reasons make this show the biggest hit.
9. Shameless
Shameless was one of the biggest comedy entertainer being loved by people of all age groups.
This series totally relies on the work of William H. Macy who has taken the role of Frank Gallagher who is a single father of six children. Frank has been shown neglectful and careless father who does not stay at his home and is happy in spending most of his time in bars.
The children are left alone at their home and nobody is there to take care of them, hence they are bound to take care of themselves in their own ways. Then, Fiona, elder amongst all children decides to take care of all of her siblings. She somehow tries to manage the family matters and balances the money- related issues. Despite all this, funny situations are often created time to time which especially makes the viewers lose their control.
8. How I Met Your Mother
This is basically a 'romantic comedy series' which is focussed on Ted who decides to find out a lady suitable for him to marry and to get settled. All this starts when Ted's best friend Marshall told him that he is going to marry his intimate girlfriend Lily.
Ted finally feels that he also requires a lady whom he can love getting true love from her too in return, he starts his hunt and introduces the viewers to several women, and we start to think that this girl will be the mother of his children but this doesn't happen.
The situation goes dramatic and funnier as he introduces us to some more women rejecting them one by one, this also creates suspense which is the sole attraction of the series.
7. Modern Family
This series holds all of its popularity as a situational comedy which often goes comic and more chuckle some while holding true outlook towards life. The comedy revolves around a couple and the hilarious conditions faced by the entire family.
Phil who is a real estate agent has a beautiful wife named Clair who stays inside the house for most of the time as a housewife. The series is most popular as it jokes upon such kinds of conditions which are faced by most of us. The 7th season was most popular among all the seasons. All the characters shown in the series as family members look so funny and we can't stop ourselves from laughing.
6. Seinfeld
This is basically a 'sitcom' which was produced in 1989 by NBC. The story revolves around the main character of the comedy series namely Jerry Seinfeld. The story of the comedy series makes us laugh upon daily life issues and day to day happenings which are almost faced by every one of us.
This comedy series was also nominated for various awards and also got 3 global golden awards. It went successfully for nine seasons from 1989 to 1998.
5. The Big Bang Theory
The Big Bang Theory makes us laugh upon scientific jokes and human behavior.
This comedy series is entirely dependent on the four main characters namely Leonard, Sheldon, Raj, and Howard who are roommates. All the friends are scientists and they are anxious about studying the facts of space science and physics. But what they found difficult is that they are shy towards girls and talking to girls challenges them, one more thing that is problematic for them is sports and they end up doing funny things here which makes us laugh.
However, its 9th season is still so popular now and the scientific jokes are main highlight of this reason. Due to these features, The Big Bang Theory has been included in the top 10 list of comedy shows.
4. The Simpsons
The Simpsons got most of the popularity as the comic characters were highly praised by children, and even elders enjoyed the funniest punches of this series. This comedy series mainly characterizes funny issues raised in Simpsons Family. The Simpson is the head of the family and he is an employee of nuclear faculty, he tries to give his best as a husband and a father but ultimately fails to do so creating miserable conditions.
'His wife Marge, his son Bart, his daughter Lisa and baby Maggie' are several other characters in this animated movie. This is very famous and successively running 'American television series' and presently 27th season is running out on a predictable rate.
3. Arrested development
The main thing which makes the viewers enjoy this comedy is watching rich people suffer and laughing upon dramatic and funny situations which are created when they make some efforts to make their lives easier. In this comedy drama entertainer, Michael Bluth is the lead actor who is bound to take the responsibility of his all family members after the imprisonment of his father.
Despite he himself is a careless guy whom his family addresses as a 'spoiled child', he tries to manage and take care of his entire family who is worse in their behavior and are uncontrollable. He tries to manage his dad's real estate business and tries to fetch some money out of it. He also tries to fulfill the needs of his family members who do not know anything about work and job and are unable to get any work.
2. Family Guy
This comedy series got popularity for its 'cutaway jokes' and 'Pop culture' and is one of the best-known comedy series.
The film includes political issues and sick comedy still is one of the best entertainer series. It includes jokes on family matters, and the story revolves around Griffin's family. The lead character is Peter who is married to Meg who is a housewife. There are three kids in the family Chris, Meg, and Stewie belonging to Peter and his wife Meg. This is one of the favorite comedy series most liked by American viewers
1. Friends
This comedy series holds the topmost position in the list of all the comedy movie series and has been rated the best on the basis of popularity.
Most of us have watched this series and we all love it since its first episode came.
This series mainly revolves around six people among which there are three girls and three boys living together in New York. All these friends try to fight the challenging conditions of their life which they face in New York, after a while they develop relationships, some of these relationships are also broken at the end.
Still, they do not get so much troubled and try to fight with these hilarious conditions together.