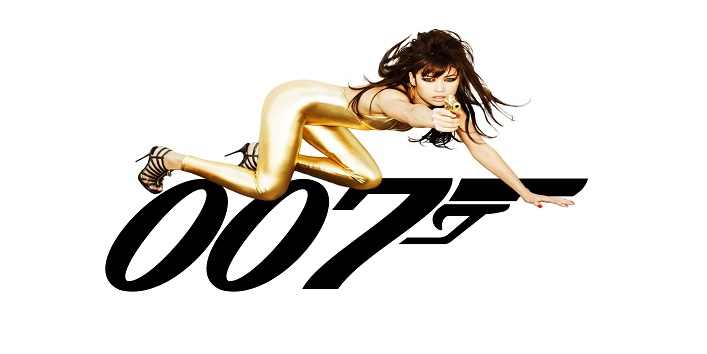 The name is Bond, James Bond. Let's agree that we all want to say our name with this attitude. After all, we all want to be a spy who flaunts all the cool gadgets we can imagine, who enjoys every sip of his martini with a unique style, who is brave enough to jump off the planes and who is really smart enough in fooling his enemies. These are the things which make him complete.
But there is one more element, perhaps the most important one, which makes him more complete than anything else, and that is Bond girls. We can explain the Bond girls in one sentence – a perfect blend of beauty, figure and attitude. Since 1962, when the first movie got released, 24 movies have been made so far. But here, we will look at the 10 hottest Bond girls of all time.
Scroll down…
10. Shirley Eaton
At the tenth position, we have Shirley Eaton from the movie 'Goldfinger' in 1964. She played the character of Jill Masterson. In the film, she helps Bond to manipulate her boss. Although it doesn't end nicely for her, Shirley manages to stun viewers with her amazing looks and stunning figure.
9. Michelle Yeoh
At the ninth spot, we have Michelle Yeoh. She played the character of Wai Lin in 1997 movie – 'Tomorrow Never Dies'. The Malaysian-born actress is the only Asian actress to act as the Bond girl. Wai and Bond develop a partnership after primarily being sent to kill each other.
8. Daniela Bianchi
Daniela Bianchi is next in our list. The beautiful actress, who played the role of Tatiana Romanova in 1963 movie 'From Russia with Love'. It is believed that Daniela got selected for the role after the audition of around 200 actresses.
7. Tiffany Case
A beautiful, sexy and mean diamond smuggler can really spice up a Bond movie. And that exactly, what Tiffany Case did, when she played the character of Jill St John in 1971 movie 'Diamonds Are Forever'. With that looks and figure, she stole many hearts.
6. Xenia Onatopp
We have Xenia Onatopp at sixth position in our list. She played the character of Famke Janssen in 1995 movie 'Golden Eye'. In that movie, she became a Soviet fighter pilot who first seduces and then kills her victims with her thighs. Yes, you read that right!
5. Honor Blackman
At fifth position, we have Honor Blackman – the co-star of Shirley Eaton from 1964 movie 'Goldfinger'. Despite of her 39 year age, she was bold enough to accept the challenge of portraying the role of a sexy Bond girl with perfection.
4. Eva Green
If a Bond girl can hypnotize someone with her eyes, it has to Eva Green. Beautiful Eva was paired with Daniel Craig in 2006 flick 'Casino Royale'. She played the role of Vesper Lynd and id full justice to the role.
3. Maud Adams
The next name in our list is Maud Adams. She is the only Bond girl who has a film named after her character. She played the role of Octopussy in the 1983 movie of the same name. The character of Adams was sexy, evil and at the same time mysterious.
2. Halle Berry
At the second spot, we have Halle Berry. She played the role of Giacinta 'Jinx' Johnson in 2002 flick 'Die Another Day'. Not many can match up with Pierce Brosnan's style but did full justice to her role of a hot Bond girl.
1. Ursula Andress
The sexy actress, who is leading our list is none other than Ursula Andress. She is not only the very first Bond girl, but as per many experts, also the hottest one of all time. She played Honey Rider in 1962 'Dr. No'. The scene of her walking out of the ocean is the most iconic scene of the Bond movies.