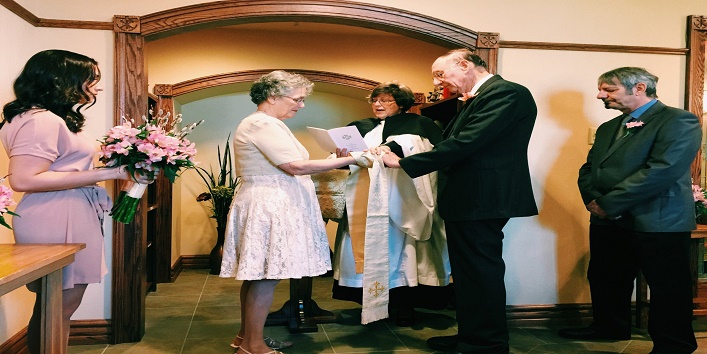 It's like a dream come true.
It was their High School days way back and they finally are getting hitched after 64 long years.
Joyce Kevorkian and Jim Bowman from Illinois, USA dated in their High School in the early years of 1950s, thereafter they went to pursue their higher studies in different colleges. They met their partners there and led a happy marriage lives before they were unfortunately widowed.
Amidst these happenings of life something really unexpected happened. One fine day Jim Bowman who is living in Springfield, Illinois, just called his teenage love to plan a High School reunion. Then a chain of calls started and one phone call followed another and it went on.
Joyce Kevorkian's granddaughter Anna Harris shared their wedding picture on Twitter and people got to know about this amazing love story.
She said, "My grandma had been very sad since my grandpa passed away five years ago, but when she started talking to Jim, she turned back into her old self."
She further added, "When I'd call her up, she had a lot of things she wanted to tell me about her life ― she had things to look forward to again."
This wedding took place on April 1, when these two 81-year-olds got went down the aisle in an intimate ceremony at Holy Cross Village in South Bend, Indiana.
"It was a really heartwarming ceremony," said Harris. "The best man and maid of honor (me!) gave little speeches and then the two lovebirds left for their honeymoon."
After the reunion thing, they both are quite happy, said Harris.
"It's almost like she is 17 again. When Jim proposed, she didn't hesitate one bit and she has been so, so happy ever since," Harris told . "To me, Jim isn't really replacing my grandpa, he's giving me my grandma back."