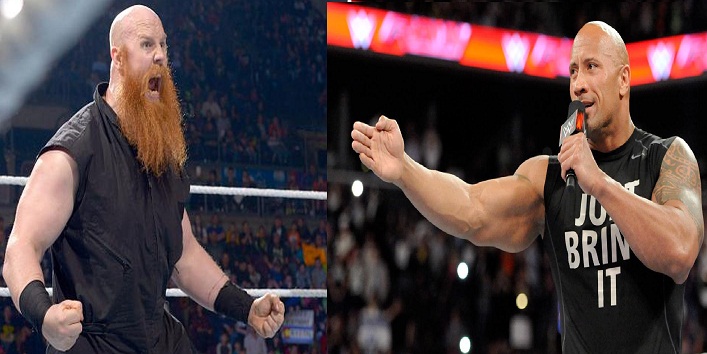 Breaking the 1987 WrestleMania 3 record of 93,173, the 32 saw the attendance of highest ever 101,763. The Rock who was back at WrestleMania after four years praised Bray and the rest of the Wyatt Family for such a huge attendance.
He said records are meant to be broken and that is the only reason why they are made.
Rock lost his cool when Bray attempted to confront him. What Rock usually does in anger, he took off his shirt and pants to expose his Wrestling Trunks. He challenged Bray for a match. To save Bray, his disciple Erik Rowan attempted to block the path of Rock but was knocked down in just six seconds thus creating a new world record for the quickest match in the history of WrestleMania.
The previous record was 11 seconds that was made by Kane against Chavo Guerrero at WrestleMania XXIV.
On the other hand, WWE announced that record 101,763 fans from all 50 states of America and 35 countries thronged WrestleMania 32 on Sunday thus creating a new attendance record.
The WrestleMania 32 has also become the highest grossing live event in the entire history of WWE By grossing $17.3 million. Last year, it had grossed $12.6 million.
"On behalf of the Dallas Cowboys organization, we congratulate WWE on their historic achievement," said Dallas Cowboys Chief Brand Officer Charlotte Jones Anderson. "WrestleMania was an incredible spectacle like none other, and we look forward to hosting it again at AT&T Stadium," said WWE Chief Brand Officer Stephanie McMahon.
"We are thrilled that we made history tonight at WrestleMania, further cementing its place as one of the top sports and entertainment events in the world. We thank our fans, the Dallas Cowboys, and the entire Jones family for their overwhelming support, "he added.
The session 32 is over, get ready for 33 which is taking place on Sunday, April 2, 2017. It will begin from Orlando Citrus Bowl in Orlando, Florida. Tickets will be distributed for it in the later part of 2016.