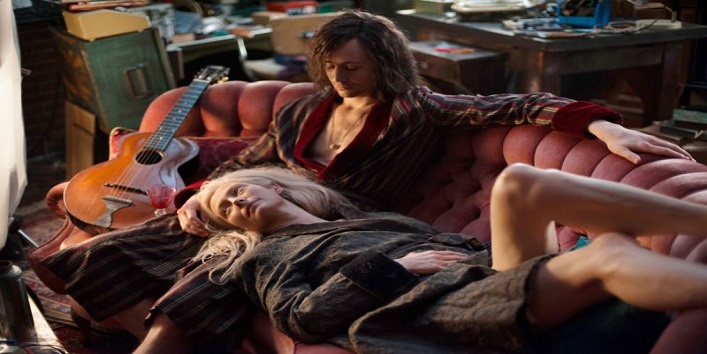 Tired of the usual Radio favorites? Check out some amazing songs that you should definitely have in your iPod:
1.Funnel of love (SQURL featuring Madeline Follin), Hal (Yasmine Hamdan) and the rest of the Only Lovers Left Alive Soundtrack

Image Source: http://i.kinja-img.com/
Jim Jarmusch's Only Lovers Left Alive not only had a great story, profound characters (portrayed by equally profound actors Tilda Swinton, John Hurt, Tom Hiddleston), alluring cinematography but also impressive soundtrack.
SQÜRL (Carter Logan, Shane Stoneback, Jarmusch) developed the primary soundtrack for the movie score and their version of Wanda Jackson's Funnel of Love was used in the opening where the mesmerizing Tilda Swinton is seen dancing like a maniac in a trance. The new version features Zola Jesus (Nika Roza Danilova) and Madeline Follin. The full soundtrack also features the remarkably entrancing track Hal from Lebanese vocalist Yasmine Hamdan and eerie yet 'auditory aesthetic' compositions from Dutch lute player Jozef van Wissem who made this statement about the OST:
'I know the way [Jarmusch] makes his films is kind of like a musician. He has music in his head when he's writing a script so it's more informed by a tonal thing than it is by anything else … I feel that I'm sort of political. Jim's film is anti-contemporary-society. And the lute goes against all technology and against all computers and against all the shit you don't need.'
SQÜRL's rendition of Funnel of love and Yasmine Hamdan's Hal headline the track list, but Spooky at a distance, Feel free to piss in the Garden, etc will keep you hooked to this ubiquitous, fluid and eerie OST for at least a few weeks.
2.Nobody's Fault But My Own by Beck (Mutations, 1998)
Beck is indisputably one of the greatest musicians of our generation and he's been garnering praise deservingly since the 90s. Nobody's fault but my own was released in the 1998 album Mutations and received acclaim from critics and fans alike and is still counted among Beck's top songs. This song is not an ear candy but rather a somber, serious and dreamy song with hints of psychedelia. The languorous lyrics, mellow tone and the buzzing sitar make it a must have song for alternative rock fans.
If you end up getting hooked to Beck after listening to this somber and poetic melody, feed your Beck curiosity with Odelay (1996), Mellow Gold (1994), Morning Phase (2014) and Sea change (2002).
3.Mylène Farmer, "Désenchantée"

Image Source; http://www.mylene.net/
With Lyrics touching issues of existentialism and freedom and a gloomy, violent video shot with precision (extending for almost 10 minutes), Désenchantée is a beautiful anthem like song. Released in 1991, the song was a major success in France and held topping positions on numerous charts. Quite pessimistic in essence, this gold certified song is the memorable youth anthem (song lyrics and mood coincided with the French protests and ongoing conflicts around the world) and was one of the bestselling singles by women artists in France. The upbeat music that gives it a romantic appeal and Farmer's power vocals have kept the song alive even after 25 years of its release.

Image Source: http://www.innamoramento.net/
Desenchantee was also covered by Kate Ryan in 2002 and became the best known cover versions of the songs.
4.Ocharovana, Okoldovana (Charmed and enchanted, The song to drink to)
Penned by the Russian poet Nikolai Zobolotskiy, the song explores a man enchanted by the beauty of a woman and his love. Covered by several artists, this elegiac melody is about the charming influence of love and beauty is counted among top folk Russian songs and is indeed one of the top drinking Russian songs.
5.Bonnie and Clyde by Serge Gainsbourg and Brigitte Bardot
In late 1967, Gainsbourg wrote songs for Brigitte Bardot for her Christmas special Le Bardot Show and this was the time when news about their affair became tabloid fodder.

Image Source: http://40.media.tumblr.com/
Gainsbourg holds a legendary stature in France and despite the infamous affairs and eccentric television appearances, even in death, he is held as one of the best French musicians. It is said that he wrote the song Bonnie and Clyde for Bardot who had asked him to write the most beautiful love song for her. Without anything too extraordinary about the composition or even lyrics, the song has managed to grab global attention for decades and is perhaps among the most famous Gainsbourg songs. His subtle vocals with sublime and sensual humming by Bardot make it one of the best romantic melodies
Gainsbourg was always in news and while he is now praised as a great musician, his duet with Jane Birkin, Je t'aime… moi non plus (introduction needed?) wasn't received very well by a lot of people. Whilst many branded it offensive, some merely stated that the song was misunderstood. If you are curious and haven't had the chance to check it out yet, treat your ears with erotic moans of Birkin and whiskey laced vocals of Gainsbourg in this beautiful duet about the hopeless impossibility of physical love. what's interesting is that Gainsbourg came up with not one but two songs when Bardot asked him to write the most romantic songs for her. While one was Bonnie & Clyde, another was Je t'aime… moi non plus, the song that gained much unwarranted and baseless criticism.
More on Serge Gainsbourg

Image Source: http://img.cdandlp.com/
Gratify your curiosity for this French hero with Guardian's best 10 songs by Serge Gainsbourg that includes bangers like Le poinçonneur des Lilas, La Javanaise (his love and knack for lyrical puns is unparalleled), Je suis venu te dire que je m'en vais, etc.
6.Revival and other tracks from Blind Threshold by Beats Antique

Image Source: http://www.mountaintownmusic.org/
When beats antique first came into existence, concept albums with tribal fusion dancer Zoe Jakes and Miles Copeland's collaboration were released. Finally in 2010, Blind Threshold became one of the most famous world music albums and Beats Antique turned into a well known Middle East band. One of the 14 tracks on the album, Revival is something new and natural altogether, a territory that had been explored before but Beats Antique made it better. It is a blend of Middle Eastern traditional musical forms with elements of dub, techno and jazz but eventually, Revival is a dance song and Blind threshold is a dance album. The instrumental grooves mixed with traditional polycultural music is quite apparent in other notable tracks like Runaway, Spiderbite.

Image Source: http://www.giantstep.net/
Jakes' tribal fusion performances and down tempo tune blended with afro beats and old school jazz sets this world music piece apart. If Beats Antique isn't already on your list of bands to check out then it should be with the fifth album Blind threshold occupying prioritized space.
7.Chase by Giorgio Moroder
Image Source: http/youtube
An electronic instrumental by the famed Italian pioneer of electronic music, The Chase is one of the best tracks to have graced the Billboard hot 100 singles charts. Initially released as part of the Oscar winning Ost of Midnight Express (1978), Chase was later extended and re-released as a single. Before Chase came into existence, Moroder was known for his compositions like I feel love (Donna Summer) and Alan Parker (Midnight Express director) overtly made a demand that the song follow the similar style of I Feel Love. This instrumental not only gave disco music a revolution but also engineered the hi-NRG genre. A 2000 remix by Jam & Spoon grew number one on numerous US dance charts.
More on Giorgio Moroder

Image Source: http://img.blogs.es/
Moroder recently made global news with his collaboration on the latest Daft Punk album (Random access memories) and with his set at the Output (New York). In his career spanning more than four decades, Moroder has made some of the best synth disco music that paved way for new age electronic genre. Revisit the disco mania of the 80s with Moroder's hits like From here to Eternity, I feel love, Together in electric dreams, Knights in White satin, E=MC2, Love to Love you baby, etc.
8.Dub will tear us apart by Jah Division

Image Source: http://img04.deviantart.net/
Russia's first Rastafarian Reggae group didn't see much commercial success but grew as a cult favorite. Released in 2004, Dub will tear us apart has a strange psychedelic element to it that will hook you if you are remotely into instrumentals and post rock style music. What's bizarre about this track is that unlike other Rastafarian and reggae songs, this one is a subtle melody that is neither crowded with mainstream reggae or psychedelia sounds.
9. Summertime by George Gershwin (Porgy and Bess, 1935)

Image Source: http://assets3.classicfm.com/
With more than 33,000 covers, Summertime by George Gershwin is one of the milestone Jazz songs. The song is partially spiritual and partially a lullaby with blues like harmonic progression and sounds more like a folk which was indeed the intent of the composer, Gershwin. Composed for the famed American Opera, Porgy and Bess, the song has seen numerous reinventions and versions by thousands of artists with most famous being Billie Holiday, Ella Fitzgerald, Paul McCartney, The Doors, Miles Davis, etc. Joplin's 1969 Woodstock performance of the classic is best known but Sidney Bechet's instrumental is perhaps the best. Gershwin is unquestionably one of the top artists with numerous classic jazz compositions to his name but he is not the only one. Here is a little peek into the must-listen tracks for Jazz lovers:
1.Autumn leaves by Miles Davis
2.Stardust by Nat King Cole
3.Feeling Good by Nina Simone
4.My Funny valentine by Charlie Haden
5.Blue in Green by Miles Davis
6.It don't mean a thing by Thelonios Monk
7.What a wonderful world by Louis Armstrong
8.Ain't misbehavin' by Ella Fitzgerald
9.All the things you are by Ella Fitzgerald
10.Fly me to the moon by Frank Sinatra
11.Bye Bye Blackbird by Miles Davis
12.Moanin' by The Jazz Messengers
10.Sunset mission by Bohren & Der Club of Gore

Image Source: http://i.imgur.com/
Sunset mission is the album you listen to when making love or having deep conversations on the balcony overseeing the gleaming golden hour urbanscape or when walking through the night. The album is a perfect mélange of neo-noir ambient and jazz with elements of dark, ponderous tunes playing at snail pace. The dull double bass lines are what make the music keep going and the pattern, although timid and similar, gets interesting in an eerie manner. Then there is the Christopher Closer's saxophone playing that keeps the tracks intriguing with the unpredictable turns that piano music takes. This is an outlandish but a must listen album for anyone looking to take a break from the popular genres.
11.A thousand Kisses deep by Leonard Cohen

Image Source: http://pre13.deviantart.net/
Since Rolling Stone's readers' poll for Leonard Cohen best 10 songs already covered the most loved classics of the Dublin Born singer, it wasn't easy for us to find the perfect Leonard Cohen song for this list. But here we are with hauntingly beautiful A thousand kisses deep from Cohen's tenth album 10 New Songs. Cohen's rasp, deep voice and the soft, melodious tune of the song is fragile, little pessimistic with somewhat cheeriness that feels like going up and down as the song progresses.
10 New songs is not the album that you slow dance to but it is ample to entrance you into a love stupor and when it comes to Cohen, less analysis is more.
Honorable Mention
Eat you up by BOA
The first English single of the Korean pop star BoA was quite a hit in Asia and overseas and established her as one of the major kpopstars. With great vocals and impeccable dancing skills, BoA sure managed to stir up things in 2008 with this upbeat track that was custom-made for dance clubs. Now regarded as the Queen of Kpop, BoA is among the best known Korean pop stars and actresses with numerous chart toppers in her kitty.
Kpop has been slowly expanding and catching up with the western shores as Psy's global hit Gangnam Style was only a peak of the extension of this genre. With glossy videos, irresistible dancing styles and a blend of numerous popular musical styles, Kpop is one genre to watch out for. Some of the major headliners for the genre are Lucifer by SHINee, Bubble Pop! by HYUNA, Good Day By IU, Run Devil Run by Girls' Generation, etc.