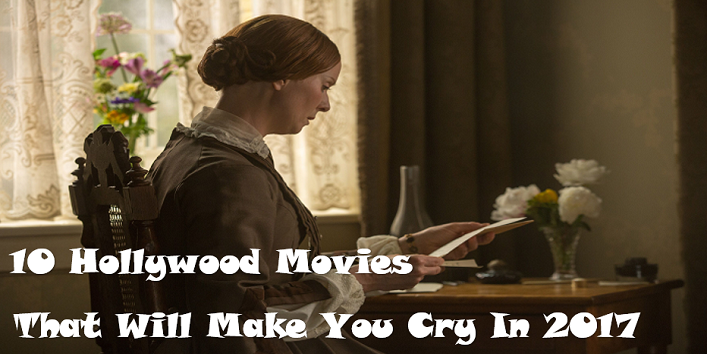 Who doesn't love a good cry? Who doesn't love the movies which present bond, love, emotions? Many of us do. Sad movies have a knack for strumming the heart. Are you bored? Need something to do? Love movies? Or in need of a good cry, then just go and grab a movie from the list right now, you will definitely won't regret it.
Here are the movies which cannot be seen without tissues in easy reach. Take a look:
1. Gifted
Gifted is a story of a single man, Frank Adler, raising his young niece Mary, math prodigy in Florida.
Frank's plan is to honor her sister's wish to give Mary a normal life in a public school. But Mary's grandmother wants her to pursue mathematics. The efforts to give her a normal and a better life continues, ends into a custody battle.
2. A Quiet Passion
Emily Dickinson is a prolific poet who published very fewer poems but got recognition after her death in 1886. This biopic by Terence Davies has been pictured so beautifully that it steals the heart for sure.
3. Band Aid
The tale of a couple Anna and Ben who shared a love of music can't stop fighting. To save their marriage, they decide to make out the solution from their passion for music. They start a band with the help of their neighbor, Dave which helps them to save their relationship.
4. Everything Everything
This teen centered saga of an eighteen-year-old girl, Maddy and Olly will definitely be a tearjerker for you. Maddy, suffering from an illness and Olly, the boy next door form a deep bond and risks everything to be together.
5. Graduation
This father-daughter Romanian drama will definitely give you a sob fest as it features the relationship and the bond they share. His daughter is attacked just before her exams which harm her scholarship to a prestigious British university.
6. Personal Shopper
The Twilight girl, Kristen Stewart starer Personal Shopper is the work every woman out there will wish for. It is a story of an American girl named Maureen who works in Paris as a personal shopper for a celebrity. She loses her twin brother Lewis while staying back in France. She starts communicating with Lewis' spirit.
7. The Lovers
Can love happen twice? The answer is in this movie. It is a story of a couple who were in a long-term affair were not happy with each other and are now at the edge of their broken relationship. They both start to find their true love in each other again. Find out how.
8. Moonlight
Moonlight depicts the journey of a young black man Chiron, bringing up in Miami. The film shows the three stages of the life of Chiron. The film is all about his difficulties he faces in growing up with his sexuality and identity. But he challenges life and gets the guidance and the support from his community that helps him to grow.
9. Me Before You
A girl with cheerful attitude, who wants to do something for her family in her life moves from one job to another. She becomes a caregiver for a rich young banker who was left paralyzed from an accident a few years ago. With Louisa cheerful attitude she shows him the importance of life, which changes their lives.
10. The Light Between Oceans
Tom, who is a lighthouse keeper lives offshore of Australia with his wife Isabel. One day her prayers are answered when she saw a boat offshore containing a dead body and a baby. She refuses the choice of his husband of informing the authorities but decides to keep the girl. But fate changes, trip to mainland reveals the biological mother of the girl.