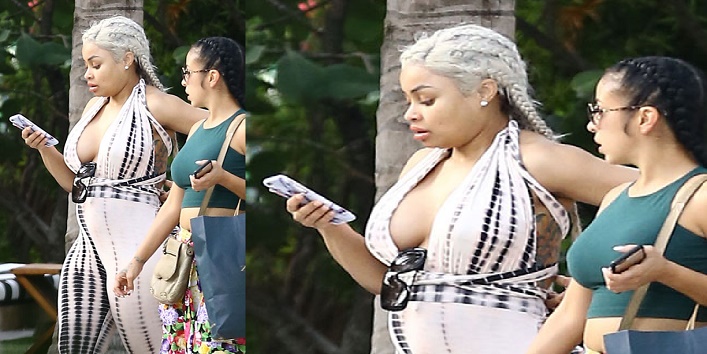 Rob Kardashian's Girlfriend Blac Chyna, who is set to become mother second time was left fuming on Tuesday after some netizens called her fat and disgusting on social media.
The pregnant model had posted some pictures of her baby bump on her Instagram account recently and some of her followers decided to nitpick at her recent maternity wardrobe and lack of makeup.
The model became very upset by these negative comments and took to Instagram for typing down her response. She wrote
"To all you people out here with negative comments and insecure words (obviously because you have nothing else to do but criticize the next) I AM HAVING A BABY! Exactly what do you expect to see?! If I walked out in makeup and heels everyday to be beautiful to your means I WOULD BE MISERABLE & UNHAPPY which are two vibes I refuse to transfer to my little one… If I comment on y'all pics and go in on them tired ass weaves or unblended ass contours I'll be wrong right? It'll be tragic! So stop playing & Put Some Respeck on my name."
But this time, model seemed very careful and chose not to post any of her emoji with this lengthy note. Though these Denizens may have definitely upset her, but there is a good news for her which may bring her back into the mood.
Kim Kardashian has told a daily publication that the reality TV star and the rest of the KK Clan are eagerly waiting for the arrival of Rob Kardashian's baby. "Everyone is doing great" and are "super excited." I completely agree on the "super excited" part, Kim. This baby is going to RULE,"! She told it.