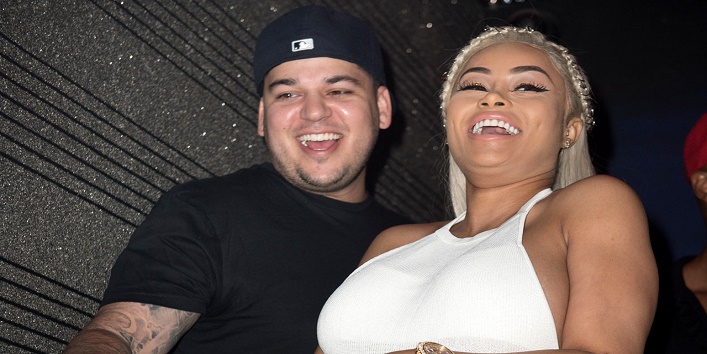 Kim, Khloe, Kourtney, Kylie, and Kendall, the names of all the sisters and their mother Kris starts with K and with the K of their surname Kardashian, we call them family KK clan. But there is this one person who wants to break this tradition of giving his baby a name which starts with K.
Sources close to Rob Kardashian, the younger brother of Kim Kardashian have revealed that he is considering names for his baby that start with letters other than K.
Why is Rob apparently feeling so obsessed with K letter, insiders revealed that he is angry with his family members who have not yet accepted his and Chyna's relations and have been saying many bad things about their relation.
They said that Rob is determined give his baby, whether a girl or boy, a name which start with alphabets other than 'K' as he wants to do parenthood on his own terms.
"He wants to set his own family agenda, and doesn't want to follow in the footsteps of Kris," they said.
Whether this k-lean break will occur or not, but it will be interesting to know that how will Kris Jenner react to Rob and Chyna's decision, because she is the one who seems the biggest fan of alphabet 'K'.
We hope this decision will not have any impact on the Rob Kardashian's comeback appearance in KUWTK. He is set to join Kris and rest on the sets of the reality show from May 15.
Model Blac Chyna and her would be husband Rob Kardashian had announced via their Instagram accounts last Friday that they are expecting a baby. The news came just a few weeks after the couple announced their engagement Via Instagram.
Rob shared an emoji of her girlfriend on Instagram which garnered thousands of likes in no time. We can see in this image that Chyna is rubbing her massive baby bump.
https://www.instagram.com/p/BFE1MJdJWfF/
The youngest brother of Kim, Kourtney and Khloe Kardashian and the half-brother of Kylie and Kendal Jenner started dating Model Blac Chyna in January 2016.
His sisters are not happy with this relation because previously they had a lot of bad blood with Chyna and her mother Hunter.
It is obvious Chyna is the ex-girlfriend of rapper Tyga who was dating Kylie Jenner.
Few days back at the premiere of their reality show, "Keeping Up With The Kardashians" the Kim and the rest of her sisters had confronted their mother badly. They blamed Kris for babying Rob.
This gives an indication that they have not accepted Blac and Rob's relations, yet and there is some more drama left in the story.