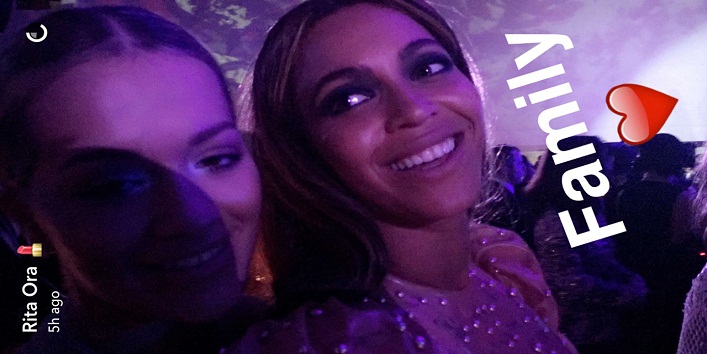 British singer and actress Rita Ora who became the latest victim of BeyHive after posting a selfie in lemon applique bra and the necklace with the letter "J" on it choose the Met Gala platform to prove she is not Becky.
Apart from posing for a selfie with Beyoncé, she was also spotted wearing nametag "Not Becky" at the after party.
She posted the snap on her Instagram account with caption "Family" and a heart emoji".
Pertinently her "lemon applique bra and the necklace with the letter "J" snap on Instagram last week had raised a storm on the internet with BeyHive's filling her account with lemons and bee emojis. Some of the Beyoncé's fans even dared to tell her that how come she could cross the queen.
The attacks on social media were so sharp that she had to come up with a statement later in which she dismissed the rumors of her relation with Beyoncé's husband Jay Z. Her statement ultimately helped to douse the flames to some extent.
After posing for a selfie with Beyoncé, at the after party, she was spotted wearing a leather lab coat with rose gold shades with a name tag "NOT BECKY" on it for conveying to BeyHives that they have got her wrong and every girl with Good hair can't be Becky.
Rita Ora is not the only girl who was targeted and dubbed by BeyHive as Becky on social media last week.
42- year-old designer lady Rachel Roy had posted a snap on Instagram with a caption "Good hair don't care." BAD MOVE! You can see that gorgeous long brunette locks of her.
Since these Rumors have been already in air that Jay Z is dating some other woman as BeyHive particular had become skeptical after listening to Beyoncé's lyrics to know who could be the woman about which Beyoncé is talking about in the album, Roy's social media post received their immediate attention and they started bombarding her account with lemons and images.