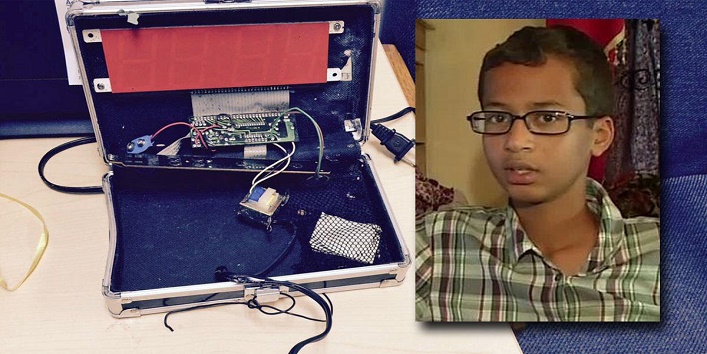 Fifteen million dollars and apologies are the quantum of compensation, which is demanded by the family of 14-year-old Ahmed Mohamed, who became a hot topic on Twitter for his suspicious mischief, though he had pure intentions to please his teachers and classmates with his handmade clock. Because of being mistaken for carrying a bomb by his teachers, he suffered hell lot of things including severe psychological trauma and marred reputation.
I
mage Source:http://s1.ibtimes.com/
The story began in a school located in Irving, Texas, when the teenager brought a minor toy — handmade clock – in order to cast his impression on his teachers. But his fortune took an ugly turn and made him blacklisted in the eyes of others. He was suspected for possession of a bomb and so was handed over to the police.

Image Source:http://media2.wptv.com/
Consequently, the lad was detained, grilled and handcuffed. The school authorities reacted cautiously because the device which had wires, might have been an explosive material. The news became so viral all over the world that the teenager had egg on his face.
I
mage Source:https://i.kinja-img.com/
The attorney representing his family said on behalf of teenager's family members that the family has suffered lots of humiliation and has demanded compensation worth 15 million dollars plus an apology from city and school officials or else they will file a civil suit.