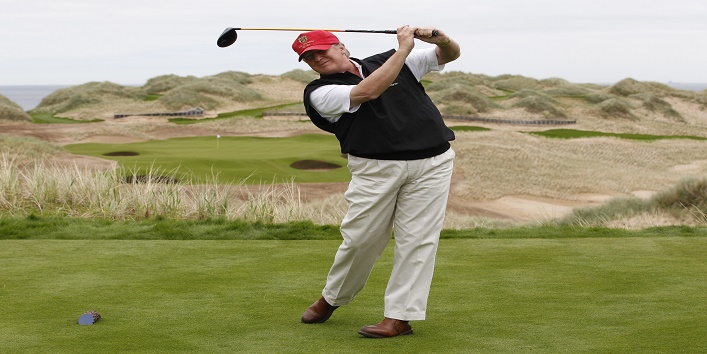 And the president has been blamed repeatedly of cheating at this game.
Before being elected for the President, Donald Trump criticized then-President Obama for his golf love.
"I just want to stay in [the] White House [and] work my ass off," he told reporters in February 2016. That November, Trump acknowledged that he would play golf as president, but said he would "always play with leaders of countries and people who can help us."
Can you believe that,with all of the problems and difficulties facing the U.S., President Obama spent the day playing golf.Worse than Carter

— Donald J. Trump (@realDonaldTrump) October 14, 2014
Since he became President, Donald Trump has apparently played lots of golf. He has been there to the golf course approx. 6 times in just 30 days. This made people assume that Trump may be a hypocrite. Who once criticized Obama for playing the same game but now he himself is pretty involved with this. Even The White House kept people in dark and didn't disclose about the golf-love of Trump.
Big battle today at Trump International with Clear CEO Garry Singer @McIlroyRory @PaulONeillYES @realDonaldTrump Drain the putt… pic.twitter.com/AZJqEVtlBT

— ClearSports (@ClearSportsLLC) February 19, 2017
Though the White House released a statement recently about the golf.
"He intended to play a few holes and decided to play longer," Sanders said of the president. "He also had a full day of meetings, calls and interviews for the new [national security adviser]."
Interestingly the president has repeatedly been blamed for cheating at the golf. There are some renowned faces who did so. Famous boxer Oscar De La Hoya and actors Anthony Anderson and Samuel L. Jackson and other as well have blamed Trump for cheating.
And The President Trump responded about the allegations:
I don't cheat at golf but @SamuelLJackson cheats—with his game he has no choice—and stop doing commercials!

— Donald J. Trump (@realDonaldTrump) January 6, 2016