International Yoga Day 2018–Yoga amazing tool for a radiant Skin
Yoga, the Indian art of exercising is not only beneficial for our physical and mental health but it also serves as a great tool for radiant skin. On this international yoga day which is celebrated all around the world, on June 21 every year let's pledge to make yoga a part of our life.
International yoga day reminds the world of myriad health benefits; yoga can provide. The International Yoga day aims at spreading yoga awareness among masses. Yoga can help you in losing weight, managing stress and take you out from the harrowing clutches of depression. Another surprising benefit of yoga is a youthful and flawless skin. It turns out, that you don't necessarily need to spend thousands of dollars on expensive beauty treatments for an enviable skin. A beautiful skin can boost your confidence and help in improving your quality of life. The secret behind achieving this amazing skin is treating it right from within. Certain exercises can definitely work and some yoga poses help you in achieving a beautiful skin.
You can enhance your beauty by adhering to a few strict guidelines in your day-to-day life. Yoga poses such as meditation and pranayama can significantly reverse signs of aging like wrinkles, saggy skin, fine lines and crow's feet. People who regularly practice yoga are known to have a glow on their faces, which radiates out from within. Practicing yoga will help your skin appear more refreshed and youthful each passing day.
Most of the beauty experts agree that a great health can help you in having a slim figure, shiny hair and flawless skin. Being healthy will in-turn make you look and feel beautiful. Yoga is in fact important, when it comes to improving your health and enhancing beauty in this modern scenario.
ADVERTISEMENT
How Can Yoga Benefit Your Skin and Health?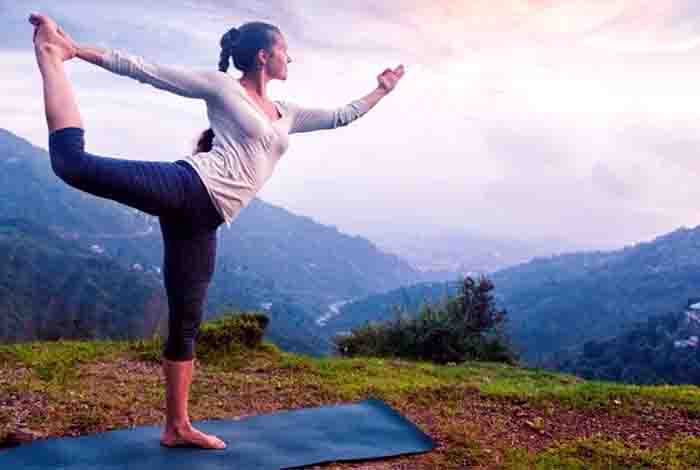 Any kind of physical activity or exercise can help you in achieving great health and a flawless skin. Additionally, there is an added advantage of both body and mind. Apart from working on your different muscle groups, yoga can help in toning internal organs, stimulating nerve centers, clearing mind and eventually increasing vitality.
Yoga, which originated in India, has garnered lot of popularity for achieving a healthy body and delaying signs of aging. It involves breath control and focuses on controlled inhaling and exhaling while performing different yoga poses.
These breathing movements, while you perform yoga help in oxygenation. As a result, you will feel exhilarated both physically and mentally. Now, both physical and mental exhilaration are crucial for achieving a great skin. Feeling great and looking great are somehow directly proportional to each other.
Yoga significantly improves blood circulation, which is an important aspect in your quest of achieving a great skin. Yoga increases blood circulation on your skin's surface and that is why yoga practitioners have such a divine glow on their skin. Proper blood circulation on skin's surface supplies essential nutrients and oxygen to the skin. Harmful toxins are also eliminated through the skin. With improved oxygenation through yoga, your skin glows beautifully.
Yoga also helps in promoting blood circulation in your scalp and hair follicles. Practicing yoga daily can help in supplying nutrients to your hair follicles for stronger and shiny hair. A healthy scalp and improved hair growth can be observed if you make yoga an integral part of your life
Yoga induces relaxation in the body thereby relieving stress. Various skin and scalp issues such as acne, dandruff and hair loss can be treated naturally with the help of yoga.
With regular yoga, what awaits is self-confidence and emotional stability. So, get ready with your yoga mats to tread a healthier path with yoga.