Immunization-Let's Protect Our Beautiful World
What is Immunization?
A vast majority of health professionals, medical organizations, researchers and professionals recommend immunization equivocally. Immunization is extremely important to protect oneself from deadly diseases. Vaccines offer the best way to prevent diseases. For immunization program to be successful, it requires cooperation from each and every person at every step of the ladder.
Immunization is the process by which a person gains immunity or resistance against infectious diseases with the help of vaccines. These vaccines act on the body's immune system and prepare it to make it more competent to fight against life threatening infectious diseases.
Immunization has proved to be an important and successful tool in controlling and eliminating a vast number of deadly diseases. It is one of the most cost-effective health investments that is accessible to even those people who live in the farthest corner of world. There is a target group for immunization program and includes everyone who is vulnerable to diseases. Vaccines do not require any major lifestyle changes and can be delivered to the people effectively through various outreach programs of government and other health agencies.
In order to spread awareness among people about the importance of immunization, WHO has dedicated the last week of April to celebrate World Immunization Week [1]. This initiative is taken to highlight the collective action that needs to be taken in order to ensure that each and every person on this planet is protected from all the diseases that can be prevented with the use of vaccines.
ADVERTISEMENT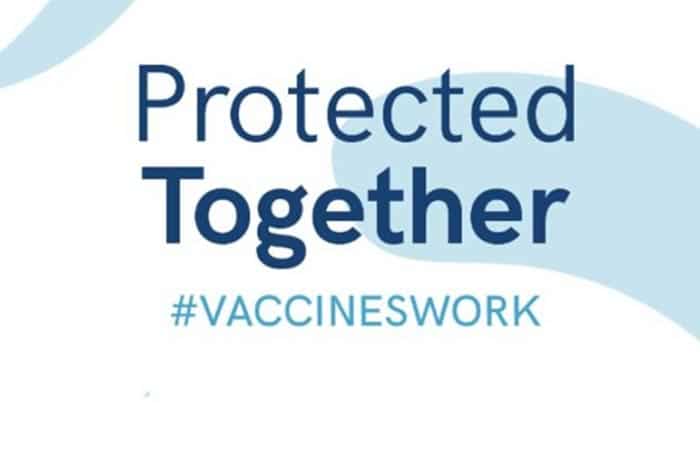 How Vaccines Work?
Vaccines work by teaching the body how to protect itself when there is an exposure to disease-causing microorganisms. They expose the body to small and safe amounts of pathogens either in killed or weakened form. This gives body a chance to identify these pathogens and make pathogen sensitive proteins in the body, called antibodies which help the immune system in their identification and subsequent killing. These antibodies remain for a long time in our bodies, sometimes even for lifetime. Later in life, when the body encounters this pathogen, it is already equipped with antibodies to fight against the pathogen and the body is protected from the disease.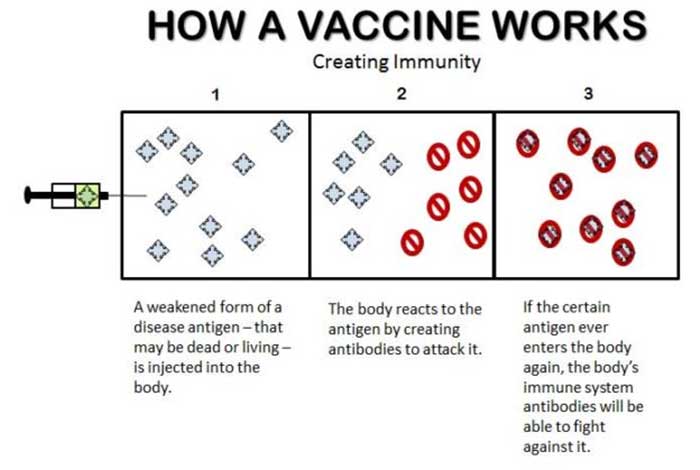 Importance of Immunization
Immunization, also called vaccination, protect us from deadly infections. When a baby is born, he needs some kind of defense mechanism against diseases. Some of the protection is passed on to him by his mother when the baby is in womb, which slowly goes away after with time. Many deadly diseases like small pox have been successfully eradicated from the world with the help of vaccination. Still out there, there are many diseases which vaccine are preventable and yet pose a serious threat to mankind. Some of these diseases are:
Polio
Mumps
Whooping Cough
Diphtheria
HPV vaccines
Meningococcus
Tetanus
Vaccines are very important for our wellbeing and keeping us safe from many diseases yet these vaccines have not been used to their full potential. As a result, all the above-mentioned diseases, which could have been easily eradicated from the face of this earth, are still out there claiming lives of thousands of people every year. So, in order to bridge this gap and create awareness about the importance of vaccination among masses WHO has decided to dedicate last week of April to vaccination.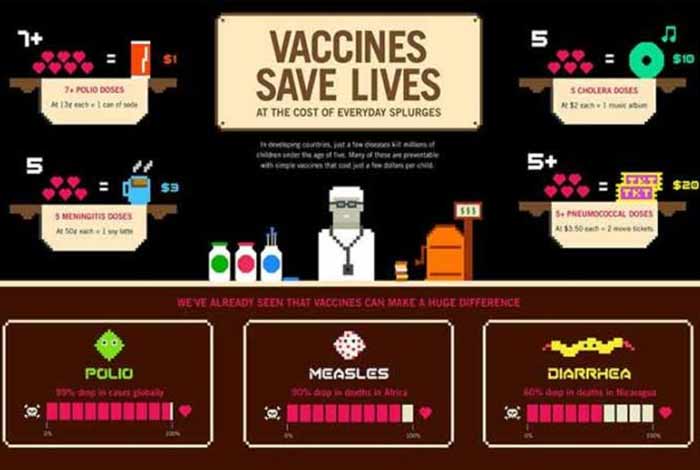 WHO's Initiative- Global Vaccine Action Plan (GVAP) 2012- 2020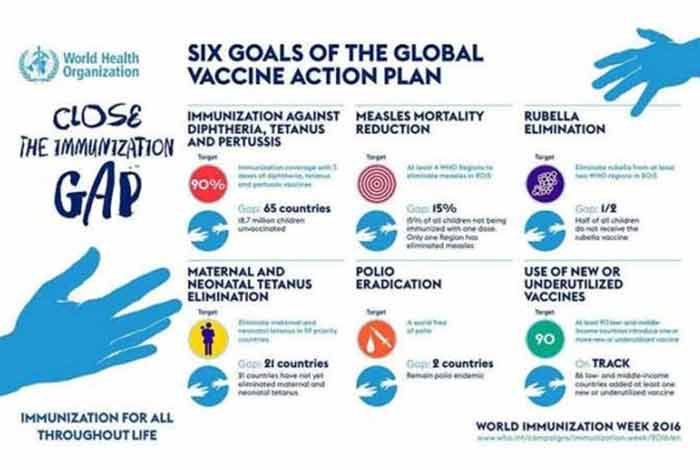 Increasing number of deaths due to preventable diseases reflected the neglect by our health regulatory bodies. But, this issue was addressed at the 70th World Health Assembly, held in 2012. Health Ministers from 194 countries endorsed the Global Vaccine Action Plan, as a pledge to ensure that no one misses out on essential immunizations by 2020.[2]
The goals of GVAP as laid down in 2012 included accomplishing following objectives by 2020.
Routine immunization must be emphasized in all areas, ensuring universal coverage by 2020
Eradication of polio and elimination of rubella, measles, maternal and neonatal tetanus
Introduce new improved vaccines
Accelerate the development of next generation of technology and vaccines
However, to date, the progress in achieving these goals has been off the track. As per 2015 report, more than 19 million children have not been immunized.
World Immunization Week 2018 Theme: "Protected Together, #VaccinesWork"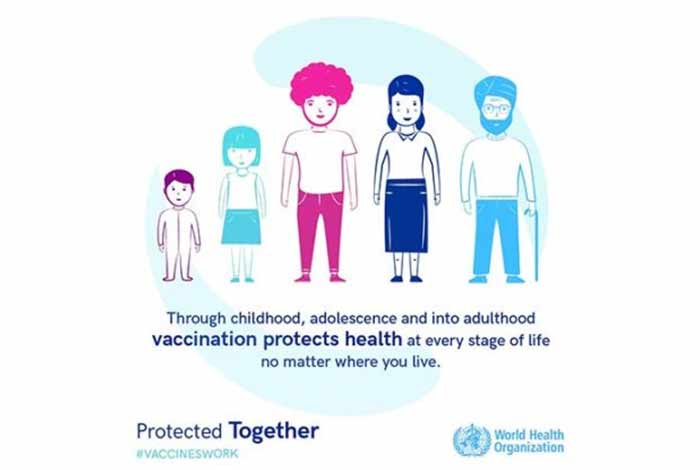 Through this year's World Immunization Week theme, i.e., "Protected Together, #Vaccines Work", WHO offers a holistic solution to the current scenario. WHO calls for a universal action against this global havoc. This year, WHO specifically targets three global days, exclusively dedicated to three groups of people, to ensure a greater coverage of immunization. These are as follows. [3]
24th April: Engaged Public Day
On the Engaged Public Day, WHO urges the general public to ensure that their communities and families are protected and vaccinated. By doing so, WHO widely preaches the idea of "We protect each other." People must remember that vaccines bear the potential to protect some deadly diseases. WHO lays down a startling fact that a regular immunization can save 2 to 3 million lives every year.
ADVERTISEMENT
26th April: Health Worker Day
This day highlights the importance of frontline health workers in providing immunization service to the most inaccessible, remote and vulnerable groups of people. These health workers include doctors, nurses, community health workers, midwives and local pharmacists. These health workers not just provide life-saving vaccines to rural communities, but also pave the path for other health programs to reach these areas. As per the 2016 estimate by WHO, primary health care systems could accomplish immunization of more than 62 million children in some of the world's poorest countries. Thus, the role of frontline health workers holds a supreme importance in achieving universal immunization coverage. Basically, on the frontlines, "We protect the communities".
April 27: Donor/ Leader Day
Vaccines emerged as the most cost-effective health care plan. Without the funding provided by the donors and leaders, this health care initiative could not have gained pace. WHO emphasizes the fact that depriving the communities of vaccination not just affects the global healthcare, but also hampers our global economy. WHO validates this fact by the findings of a study, which showed that increasing the vaccination coverage in middle-income and low-income countries by 2030, could save the health expenses of many and prevent 24 million people from falling into the pitfall of poverty. Further, WHO states that every 1 dollar spent on a child's immunization could bring about a 44 dollar return in social and economic benefits. WHO pleads for the involvement of world donors and leaders as "Their commitment can keep people protected together."
Therefore, this year, WHO calls for participation and assistance of every level of our community, to make sure that every single person is well-protected with vaccines.
Conclusion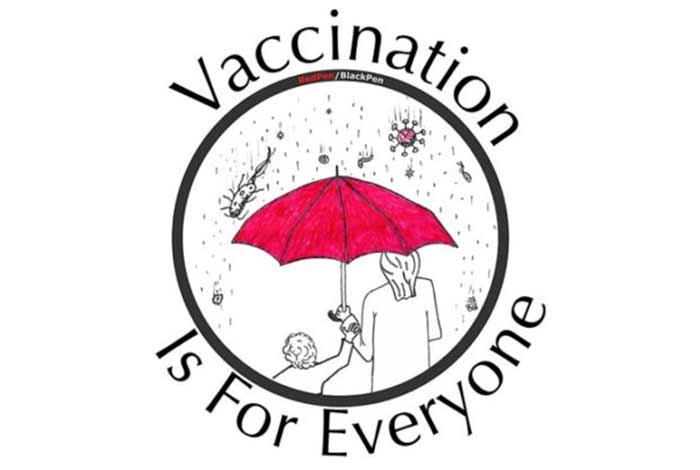 As stagnant as the global scenario appears, some progress has been made in the direction of universal coverage of immunization. As per the 2017 report, several diseases seem to be wiping out, owing to the protection rendered by vaccines. 2017 saw least number of wild poliovirus cases. Three countries reported complete elimination of neonatal and maternal tetanus. New vaccines were introduced in nine additional countries.
Although a brighter future can be expected, there is a long way to go to live in a world with 100% immunization coverage. This year, let us commit to counteract this global issue of immunization. Each one of us can be part of this revolution by ensuring the safety of our own family, society and community. If you come across anyone who is under-vaccinated or un-vaccinated, inform them about the importance of immunization against the fatal diseases. Find the primary health care center in your area. Talk to your healthcare provider.
Vaccines are one of the greatest triumphs of modern medicine. But, the society, nation and the world has been failing to reap the wonders of this magical cure. Protect yourself, your child and everyone around you. A simple message we all need to recall is that every life counts and vaccines can save them.