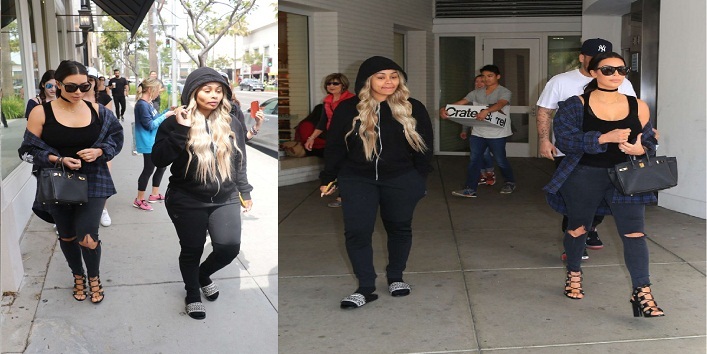 The walls of hatred are melting and the doors of friendship are opening for Kim and Chyna. We may very soon see Kim Kardashian sharing table with Rob Kardashian's Girlfriend Blac Chyna whom with she had a lot of bad blood previously.
Kim and Chyna were friends in 2014 but their friendship suffered a serious setback when Tyga entered into the picture, who started dating her younger sister Kylie Jenner.
Tyga is the ex-boyfriend of Chyna. They have a son together who stays with Chyna. When Tyga broke up with her and started dating Kylie, Chyna became a bitter enemy of Kardashian's and they exchanged a lot of bad blood. Chyna's friendship with Kim also suffered a serious setback.
Let us remind you, in 2013 and 2014, they used to spend a lot of time together in shopping and partying. The proof is the snaps which they used to share on social media. In 2013, we saw them heading out for celebrating girl's day together and sharing some jaw-dropping bathroom selfies together.
She even attended Kim's wedding with Kanye in Italy. Chyna's then Beau rapper Tyga was with her at the wedding.
It seems Rob Kardashian has been successful in motivating her sister to become friends with Chyna once again. First, we saw Kourtney at Chyna's house who was then dropped by Rob home in the evening. Now it is the turn of Kim. Who knows we may soon see Kylie and Chyna dining together at one table. After all, things are meant to change with time.