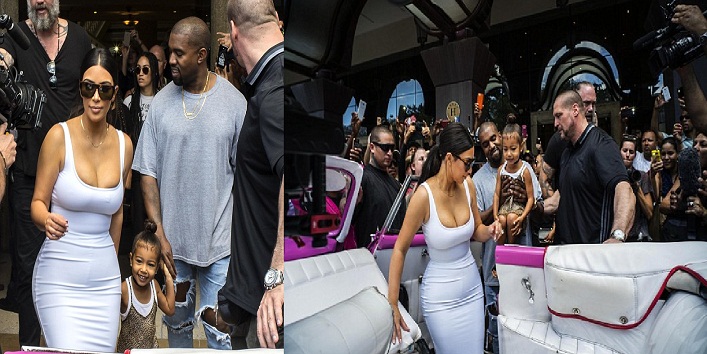 With Kim dressed in White Skin tight dress with a ruffled neckline and sleeves and powder blue heels and rapper Kanye West in a grey shirt and denim pants, the couple strolls through the streets of Havana in Cuba.
But this time, their daughter North West was not spotted with them. We believe they must have handed her responsibility to Khloe Kardashian who is also on the trip
On Thursday, we observed Khloe posting pictures of the trip on social media as if the responsibility of documenting the trip has been put by Kardashians on her shoulders while others seem busy with eating and strolling.
This is their first joint trip to Cuba. Kardashian Family has spent several vacations together in Thailand, Greece, Bora Bora and Armenia like countries. This year they have chosen Cuba as their vacation destiny.
Kourtney and Kim have brought their children along with them. From the first official photos of their trip, we got to know that Khloe Kardashian and Malika Haqq are also with Kim and Kourtney.
On Wednesday afternoon, we saw Khloe sharing a picture on her twitter account with the caption "Pablo was here!"
The family was also seen eating together in McDonalds where they seem to enjoy different types of foods.
In one more official picture of their vacation, we can see the family enjoying a meal at the San Cristobal Paladar restaurant in Havana.
"See the world… Cuba. #blessed," Malika shared on Twitter in between sightseeing.
Havana is a location which has attracted people like Barack Hussain Obama, Singer Beyoncé and her husband Jay Z.