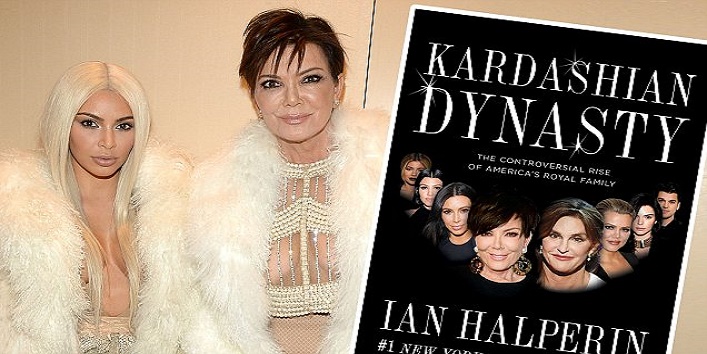 We know you are feeling too much obsessed with Kardashians now as wherever we visit, social media, TV, newspaper, the internet, there is something being discussed about them. We don't want to bore you further by narrating tabloid stories like which way Kylie and rapper Tyga's relation is going or Kim has posted her nude selfie on Instagram or what is the status of Kourtney Kardashian's relationship with Scott.
Instead, we will tell you such shocking facts about them that we swear, you have never heard before.
These facts are written by Ian Halperin in his latest book 'Kardashian Dynasty'. The author has taken the help of the interviews, news stories, documentaries, etc. to explore how they have been able to build their empire in America. There are some shocking truths revealed by the author in his book. The author writes that this family has basically descended from garbage collectors. Kim lost her virginity to T.J. Jackson, not Ray J with whom her first sex tape came.
Scroll down the page to know the ultimate truth of a family which always wanted to become famous by hook or crook.
Grandfather of Kim Kardashian was a garbage collector
If Ian Halperin is believed, then Kim Kardashian's grandfather Tatos Kardashian was a garbage collector by profession.
Halperin writes that he had, later on, started his own garbage collection business in 1910 but it gave him a little success.
"Oh Shit" Kris Jenner!
It was not love at first sight, it was "Oh Shit" at first sight when Robert met Kris Jenner first time. Actually, she was wearing a necklace that had written "Oh Shit" on it.
O.J Simpson was groomsman at Kris's wedding with Robert
Do you know O.J Simpson was a groomsman at Kris's wedding with Robert and Cowling's ring bearer?
Kris, Caitlyn and Elvis connection
We came to know through the book that before tying the knot with Kris Jenner, Robert Kardashian was courting Pricilla, the wife of Elvis Presley. On the other hand, when she met Caitlyn, who was married to Thompson then, the latter had also once dated Elvis.
Rob Kardashian is famous among his step sisters as pee boy
The author further writes that Robert Kardashian once sprayed pee over his stepsisters Kylie and Kendall during a hide and seek game and from that day, they started calling him 'pee boy'
Caitlyn's first movie appearance made a terrible impression
The impression of the Caitlyn's first movie appearance went wrong. The movie was a fictionalized account of a real story. It was basically a true story which was turned into a fiction that ultimately lead to a bad impression.
Kim virginity was busted by T.J. Jackson, not Ray J
And we thought Kim lost her virginity to Ray J before meeting Kanye after their sex tape was exposed in 2007. We were wrong. The author has busted our myth by claiming Kim had first sex with T.J. Jackson. The author writes in the book that he was her first serious boyfriend. Jackson was the son of Tito and nephew of Michael.
Kim and Kourtney were thrown out of plane for spreading bomb hoax
Have you heard about this before, Kim Kardashian and her younger sister were thrown out of a plane in 1996 when they alleged the passenger sitting on their left side was carrying a bomb. Halprein writes
"Before the flight could take off they became fixated on another passenger. "That guy has a bomb!" they shouted. "We want to get off the plane." Whether they were genuinely scared or whether it was simply a teenage prank has never been determined, but the plane was returned to the gate and the girls escorted off."
Kim came into the spotlight during her brief relation with Nick Lachey
Kim has dated too many men in her life. One famous name is Nick Lachey whom she met in 2006. They were spotted together by paparazzi at The DA Vinci Code in May 2006. Nick, later on, revealed the truth of his relationship with her in these words, "There are certain ways to play this game, and some people play it well."
Kim was spotted peeing in public toilet
Kardashians were not royal always. If it would have been so, then Kim would have never been spotted peeing in a public toilet just some years back.
Kris Jenner makes visitors to sign non-disclosure agreement
This fact was originally reported by New York Times and author, has quoted it from there. The author writes that visitors at Kardashian's are made by Kris to sign a non-disclosure agreement which says "What we say here, what we see here, let it stay here, when we leave here."