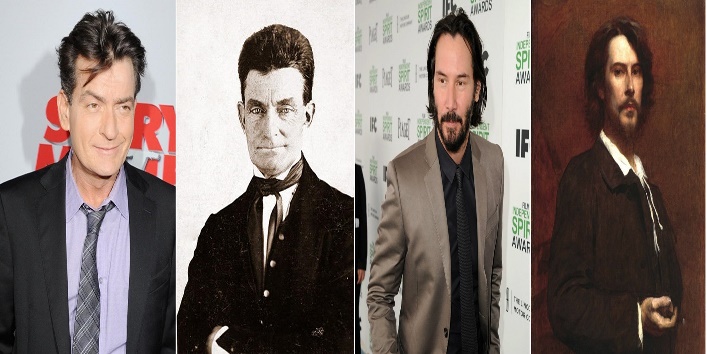 They say that everyone in this world has at least one look alike. And as per the old urban legend, the theory of reincarnation is also true. But obviously, we do not believe in such things because these things cannot be practical and it does not satisfy our logical thinking. But the following pictures of Hollywood celebs and the incredible look alike from past will force you to think that something is there, which is beyond our knowledge, logic, science and our daily life cycle. Let's have a look.
1. Christian Bale
The actor got commercial success for his excellent performance as Batman in Christopher Nolan's Batman Begins, which released in 2005. He also worked in The Dark Knight in 2008 and The Dark Knight Rises in 2012. This old picture of a Civil War soldier looks so much like him.
2. Nicolas Cage
He is an iconic actor, who has performed as a central character in a variety of films – right from romantic comedies and science fiction to action films and Drama. A couple of years back, a person for the United States put this picture on sale with caption "Nicolas Cage is a Vampire". This unknown picture of man is around 80 years old but its resemblance with Cage is just unbelievable.
3. Keanu Reeves
Keanu Reeves is a well-known face and got massive popularity from his sci-fi movie series 'Matrix'. But does he has a twin from the past? Well, it looks like he has. His similarity with French actor Paul Mounet is unbelievably strange. Paul died in 1922.
4. Queen Latifah
Queen Latifah, is a rapper, singer, actress, songwriter and talk show host. Latifah gained mainstream popularity with her performance in the 2002 film Chicago. On the other side, Zora Neale Hurston was an African-American short story writer and novelist. She died in 1960.
5. Charlie Sheen
Charlie is a very talented actor who rose to fame with a series of the successful movie in the late 80's. Sheen was the highest paid actor on television and earned 1.8 million Dollar per episode of the comic TV series 'Two and a Half Men'. His look alike from the past is Josh Brown – an American abolitionist who died in 1859.
6. George Clooney
George Clooney is an American filmmaker, businessman, actor and philanthropist. He has bagged 3 Golden Globe Awards for his work as an actor and 2 Academy Awards. His picture is so similar to the picture of Che Guevara. The famous Argentine Marxist revolutionary, guerrilla leader and military theorist.