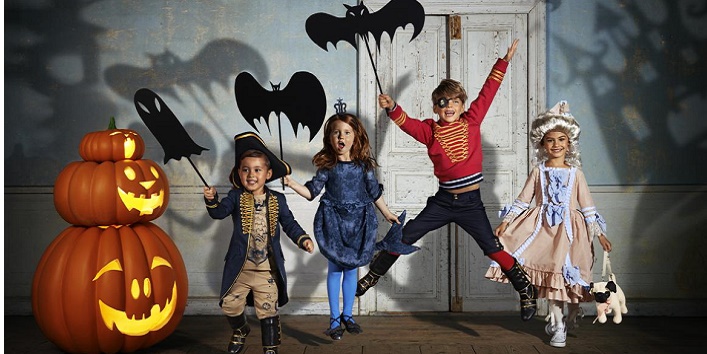 Halloween is a blasting celebration enjoyed with a platter full of entertainment and fun. The most exciting part of this celebration is to dress up your little ones in an adorable costume and children screaming "Trick or Treat" in their localities. Beautiful costumes make your kids a star of the party, but for this you need to choose the apt attire according to the likes and dislikes of your child. There are variety of kid's costumes available but if you are still confused in selecting the best ones, then read this article that helps you in finding the cutest Halloween costume for your baby.
1.Zombie Getup: It is one of the most famous getup loved by the kids especially boys on Halloweens. Dress her/him with long dirty attire and apply some pale deathly make up on your kid's face. Also, sprinkle some drops of fake blood to give an original look. Now, your naughty champ is ready to scare everyone in the Halloween.

Image Source: http://fun-advisor.com/
2.Lobster Costume: This coolest Halloween costume perfectly suits your newborn baby (0 to 6 months). It's a very comfortable outfit that allows you to change your baby diaper easily. Whether you have a baby boy or girl, your sweet little one looks cute in this cuddly costume.

Image Source: http://1.bp.blogspot.com/
3.Superhero Costumes: Children love the superhero characters, so this Halloween season dress them up with their favorite super heroes. There are a variety of costumes such as superman, batman, Robin Hood, etc. are available in the market from where you can buy the best one for your little champ. Even, super girl or wonder woman dresses are also available for girls.

Image Source: http://i.ebayimg.com/
4.Minion: Why not, choose the famous character of the minion costume to dress up your kid on this Halloween. You just need a yellow hood with denim jeans and a pair of black boots to get a minion like appearance. Don't forget to add silver goggles, pipe cleaners and black gloves in the costume.

Image Source: http://cdn.instructables.com/
5.Animal Costume: Picking up an animal costume for your kid is also a good idea. You have lots of options in animal costumes such as tiger, shark, penguin, monkey, giraffe, puppy, snail, bee, teddy bear, lady bug and more. So, select the appropriate one for your little kids.

Image Source: http://o.aolcdn.com/
6.Food Costume: How you feel when your sweet baby wrap in delicious and tasty food items? Yes! Try out the food costumes for your kid, which make them look different in the Halloween bash. Little peanut, hot dog, pizza, banana, corn, pea, chili pepper, Ice cream, etc. are some of the attractive food costumes that will be surely loved by your sweetheart.

Image Source: http://cf.livinglocurto.com/
7.Pirate Costume: Pirates costume is very popular nowadays. Dress your kid with striped shirt, pirate hat, and boots. Add eyepatch and fake plastic sword on your kid hands to give a better classic look.

Image Source: http://www.costumeexpress.com/
8.Minnie or Mickey Mouse: A famous cartoon characters loved by not only children but adults also. You can easily make Mickey and Minnie mouse costume for your little one. Put on black shirt, red shorts and highlight black eyeliner on the nose. Add white gloves and yellow shoes in which your little cutie looks cuter.

Image Source: http://wallpaperishare.com/
9.Prince/Princess: Disney prince, princess and fairy character costumes can be used to give a beautiful appearance to your sweetest kids. Flurry short or long dresses, wands, wings, crown, etc. are some accessories used for this makeover. Allow your children to walk on the Halloween ramp like a prince or princess.
Get ready to blast this Halloween! Happy Halloween