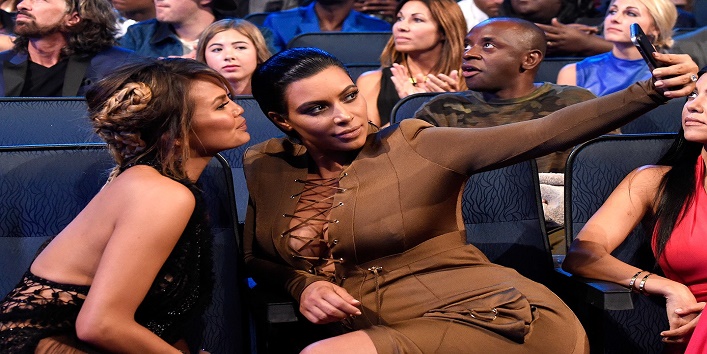 'A friend in a need is a friend indeed'. This phrase is quite appropriate in Kim Kardashian's life at the moment. John Legend's wife Chrissy Teigen showed on Twitter that she will defend her friend whenever she needs to.
Chrissy defended her friend Kim from the gossips that she was sniffing cocaine recently.
Kim Kardashian took a hit after posting a Snapchat of herself. In the picture, there was something in the background which looked like cocaine or something like that substance.
If we believe Kim, it was nothing but sugar that her daughter was using for a project under with her help. Well, that makes sense keeping in mind she is a mother of two.
Chrissy Teigen came to defend Kim Kardashian by stating that if Kim is actually, a cocaine addict, she wouldn't have only left the cocaine type substance out in the open just like that.
Chrissy straightway asked her fans on Twitter "What kind of coke headlines up the drugs and just…doesn't do them,"
However, Kim justification wasn't good enough to convince everyone. Because it is not that easy to understand that why Kim Kardashian and her daughter would play with candy in the bathroom.
A fan then replied to both Chrissy and Kim. "Why is she playing w candy on the bathroom counter? Why is said candy cut into lines? Those r lines in waiting,"
Chrissy Teigen, of course, gave back a pretty sarcastic reply, who felt the strangers knew Kim better than Chrissy.
"You're right. I am wrong. You know her better for sure. I trust your judgement here," Chrissy replied. That response was good enough to shut the fan down quickly.
But this is not the end, Kim posted a video on the Twitter. In that video, she discloses that it was neither cocaine nor the sugar which she thought. There was nothing on her table in the bathroom. That was only a marble table with its natural shade!
We don't know if there was actually something on the table or not. But thanks to that incident we at least know that Chrissy is actually a good friend of Kim.