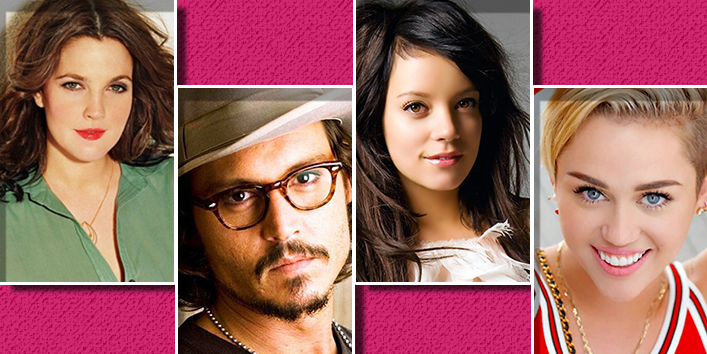 Many of the celebrities says that taking drugs is a normal thing in stardom, and it's also true that some people hide it from telling others. But these stars didn't shy away and confessed boldly in front of the media.
1. Angelina Jolie: "I have done just about every drug possible: cocaine, ecstasy, LSD and, my favorite, heroin."

Image Source:https://beyondbreastcancer.files.wordpress.com
2. George Clooney: "I didn't live my life in the right way for politics, you know. I fucked too many chicks and did too many drugs, and that's the truth. That's gonna be my campaign slogan: 'I drank the bong water.'"

Image Source:http://photonews.com.pk/
3. Sienna Miller: "I mean, I still love a waterfall or the odd hallucinogenic drug. I liked mushrooms, which were legal until a year or so ago. If I had a drug of choice, it would be magic mushrooms."

Image Source:http://i.huffpost.com/
4. Megan Fox: "I've done drugs, and that's how I know I don't like them. Cocaine is back with a vengeance. Everyone in every club is doing drugs. A lot of people are on prescription drugs. Celebrities aren't trying to hide it, except where people have camera phones. … I wanted to try several things and make an informed decision, but I didn't enjoy anything other than marijuana. I don't even think of it as a drug — it should be legalized. I know about five people who aren't on drugs today, and I'm one of them."

Image Source:http://images-cdn.moviepilot.com
5. Oprah Winfrey: "I did your drug. This is probably one of the hardest things I have ever said. … I had a perfect, round, little Afro, I went to Church on Sunday and I went to Wednesday prayer meetings when I could … and I did drugs."

Image Source:http://static.parade.com
6. Drew Barrymore: "When I was 10 ½, I was sitting in a room with a group of young adults who were smoking pot. I wanted to try some, and they said, 'Sure. Isn't it cute, a little girl getting stoned?' Eventually, that got boring, and my addict mind told me, 'Well, if smoking pot is cute, it'll also be cute to get the heavier stuff like cocaine.' It was gradual. What I did kept getting worse and worse, and I didn't care what anybody else thought.

Image Source:http://www.hitthefloor.com/
7. George Michael: "[Marijuana] keeps me sane and happy. I could write without it if I was sane and happy. … This is the only kind of drug I ever thought worth taking."

Image Source:https://fanart.tv
8. Morgan Freeman: "Never give up the ganja."

Image Source:http://www.exposingtruth.com
9. Elton John: "I was consumed by cocaine, booze and who knows what else. I apparently never got the memo that the Me generation had ended."

Image Source:http://cdn.pursuitist.com
10. Nicolas Cage: "I had a bag of mushrooms in my refrigerator. My cat used to sneak into the refrigerator and eat them. … He ate them voraciously; it was like catnip to him. So I thought, "What the heck, I better do it with him." I remember lying on my bed for hours and Lewis was on the desk across my bed for hours, and we just stared at each other — not moving, just staring at each other, and I had no doubt that he was my brother. But having said that, I don't do that anymore. And you know what? Later in life, when I was completely not doing any of that, I know he said 'Hi' to me."

Image Source:http://cdn.3news.co.nz
11. Johnny Depp: "I don't trust anyone who hasn't been self-destructive in some way. Who hasn't gone through some sort of bout of self-loathing. You've got to bang yourself around a bit to know yourself."

Image Source:http://cdn.3news.co.nz
12. Fergie Duhamel: "I got into a scene. I started going out and taking ecstasy. From ecstasy, it went to crystal meth. With any drugs, everything is great at the beginning, and then slowly your life starts to spiral down. [I was] 90 pounds at one point."

Image Source:http://zpieprzykiembliskowarg.blox.pl/resource
13. Dennis Quaid: "Cocaine was even in the budgets of movies, thinly disguised. It was petty cash, you know? It was supplied, basically, on movie sets because everyone was doing it. People would make deals. Instead of having a cocktail, you'd have a line."

Image Source:http:http://www.albawaba.com/sites/
14. Lindsay Lohan: "I tried to mask my problems with alcohol, cocaine and mind-altering substances. I ran myself down and lost track of who I was."

Image Source:http://www.lovebscott.com
15. Lady Gaga: "I still smoke a lot of pot when I write music".

Image Source:http://www.lovebscott.com
16. Madonna: "I only tried Vicodin once. Drugs have a weird effect on me. They do the opposite with me. I just chewed the entire inside of my mouth. I bitched at everybody. And I was in more pain. It was the worst experience of my life. So I'm happy to say that none of my pharmaceuticals – and I had a plethora of them given to me – influenced me."

Image Source:http://static.guim.co.uk/sys-images
17. Miley Cyrus: "Hollywood is a coke town, but weed is so much better. And Molly, too. Those are happy drugs – social drugs. They make you want to be with friends. You're out in the open. You're not in a bathroom."

Image Source:http://www.ticketsmove.com
18. Lilly Allen: "I was a drug dealer in Ibiza at 15…But I haven't done drugs for a while now. Too busy. I'd like to say work and sex have replaced drugs."

Image Source:http://img1.ndsstatic.com/
19. James Franco: "I used to smoke weed, but I haven't done it in a long time. Everybody, even now, thinks, 'That guy is stoned.' It's just the way I talk, because I don't smoke weed. Somehow, there's something about me, the way I talk, that implies that I'm on drugs.

Image Source:http://cdn.hitfix.com/
It is rightly said that "Vanity comes before the fall," and these celebs really got carried away. To divulge such an intricate personal secret, takes courage.