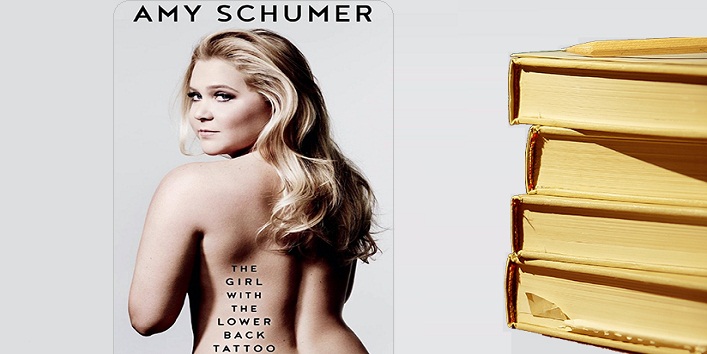 Days after American Stand-up Comedian Amy Schumer made the headlines after alleging that a man harassed her in Greenville for taking a photo, the beautiful lady is in the news once again but this time for some bold reason.
Schumer has posed topless for the cover page of her book entitled 'The Girl with the Lower Back Tattoo'.
The book is a collection of her essays and it will hit the stores and Kindles in August 2016. The famous standup comedian shared a first look at the book's cover with her fans on social media on Sunday. But the topless Schumer is without that famous titular tattoo of her.
According to a publication, she has got $8 million in advance for her first book.
Schumer, who is currently said to be the most famous woman of America remains in the news because of one reason or another.
Most recently, she was in the news after she appeared at the Met Gala. Prior to her Met Gala appearance, she remained in the news for many days after she alleged one of her fans harassed her for a photo and instead of apologizing, he is arguing with her on social media.
Schumer posted a picture of this fan on her Instagram account claiming that he blocked her way and put a camera on her face while she was walking in Greenville. Standup Comedian said that when she objected, he replied that this is America and people here are paying her for it.
She wrote "this guy in front of his family just ran up next to me scared the shit out of me. Put a camera in my face. I asked him to stop and he said "no, it's America and we paid for you" this was in front of his daughter."
"I was saying stop and no. Great message to your kid. Yes, legally you are allowed to take a picture of me. But I was asking you to stop and saying no. I will not take pictures with people anymore and it's because of this dude in Greenville," she concluded.
The fan wrote in response to her post. "You're a celebrity. I understand you want to blast me, but that's petty, that's beneath you". He said that what Schumer has given a wrong account of what exactly between them and the story is he never confronted or harassed her for a photo.