Alpha Hydroxy Acids (AHA) Sources, Benefits & Side Effects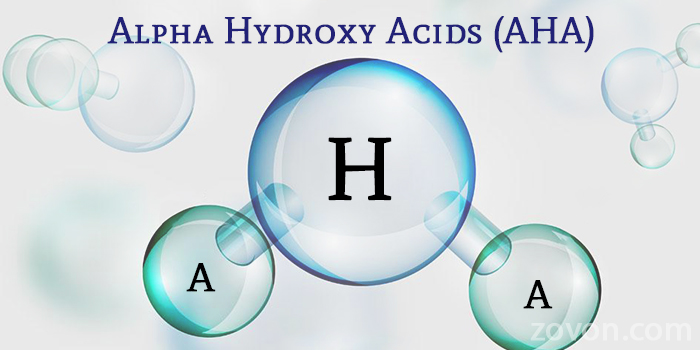 Alpha Hydroxy Acids (AHAs) are the combination of two compounds that consist of carboxylic acid combined with a hydroxyl group on the neighboring carbon. A natural constituent of sugar cane juice and it is also found in the lactic acid of tomato juice and sour milk. AHA treatment is known for their mildest formula for giving skin treatments.
AHAs includes:
Lactic acid which is found in sour milk
Tartaric Acid which is found in grapes
Citric Acid which is found in citrus fruits
Malic Acid which is found in apples
Glycolic Acid which is commonly found in sugar cane
Mandelic Acid which is found in bitter almond

Lactic Acid:

It is one of the gentler fruit acids. It is used mainly for sensitive skin and fights acne. Lactic acid is often found in milk and other fruits such as Papaya, Grapes, Tomato, Lemon, Pineapple, etc.
(Dosage: Yogurt and grapefruit mask can be applied weekly for better results.)
Tartaric Acid:


It is found in grapes and bananas in abundance. It helps smooth the skin and thus, enhances its natural glow. Champagne is derived from grapes and is a good source of AHAs. Using tartaric acid as face mask works as the detoxifying treatment.
(DOSAGE: Mash Grapes and banana with 1-2 spoons of champagne and apply it on a face until it gets dry, and rinse it with water. Do it repeatedly for once in a week and you can see the results on your skin.)
It is found in citrus fruits such as oranges, lemons, grapefruits, and limes. Citric acid is very beneficial to skin. It lightens pigmentations and even fades acne spots from lightening pigmentation to acne spots.
ADVERTISEMENT
(DOSAGE: Try this lemon and milk facial mask to inject some citric acid into your beauty routine.)
Malic Acid:


It is amply found in apples. It can reduce skin aging, help deaden acne, and promote collagen production.
(DOSAGE: Mash apple and apply it on face directly and see the results. You can also apply apple cider vinegar rather than applying apple directly.)
Glycolic Acid Facial Mask:

It is one of the most effective exfoliators available. It is found in sugar cane which gives life to the surface layers of the skin. Glycolic Acid is mostly used in commercial products as it is the smallest of all AHAs and thus can penetrate deep into the skin and work wonders.
(DOSAGE: Take 2 tablespoons of raw sugar, 2 tablespoons honey and ½ lemon juice. Mix it well and apply to the face and neck area. Rinse it with water after 5-10 minutes. (Avoid eye area) )
Mandelic Acid:


It is derived from Bitter almonds. It is used for in anti-aging and acne treatments. It is very useful in case of very sensitive and sun damaged skin. Other than this, mandelic acid is also used for the treatment of urinary infections and oral treatments.
Natural Sources of AHAs
Papaya: Papaya is a very rich source of AHAs and many proteases. It helps in improving skin texture and tone. It also helps in removing skin tan. And sunburns. Other than beauty and skin, it also regulates the digestive system and improves cardio activities.
Pineapple: It works wonders for the skin. It gives skin a lustrous look and helps in protecting the skin from acne, fine lines, sun damage and uneven skin toning.
Grapes: Grapes contain proanthocyanins and resveratrol that are very strong antioxidants.  The grape seed extract applied directly on the skin provides protection against harmful ultraviolet radiations.
Tomato: It is an easily available source of AHAs. It can be applied to the skin directly for anti-aging. It also helps in removing sun burns and prevents skin darkening.
Lemon: It is used for blackhead treatments and lightening of the skin. It also prevents skin from being too much oily.
Benefits of AHAs
AHAs are well known for their use in cosmetics. They are used to make different skin related cosmetics such as creams, face wash, toners and many more. They are great exfoliators (removes dead cells) and increase blood flow to the skin which in turn helps in:
Reducing wrinkles

Smoothening the skin

Reducing the appearance of fine lines

Improving skin texture

Overall beautification of the skin

Regeneration of dead tissues

Reducing uneven pigmentation and acne

Treating sun damage
Alpha hydroxy acids are also used to treat extremely dry skin when this condition develops in pregnant women. (Please check with your doctor or dermatologist if in case you are pregnant before applying AHAs containing results to avoid reverse results)
How do AHAs work?
The main benefits of AHAs are as below:
Exfoliate the skin.

Effectively remove the top layer of skin and help new skin to grow.

Reduce wrinkles, make skin smoother and can help uneven and pigmented skin become smoother and evener.
It is also believed that alpha hydroxy acids also stimulate the growth of elastin and collagen which give skin its youthful look and elasticity. Elastin and collagen in our skin cells get lost with age and incorporating AHAs into our daily skin care routine can regenerate these compounds in new cells. which get exhausted with age.
ADVERTISEMENT
People who have a very sensitive skin might have reverse results using alpha hydroxy acids. AHAs work best for most people in a concentration of 5% to 7%, which is found in most products that contain the AHAs.
AHAs Peels

AHA peels are used for a mild effect on the skin. It removes outer layers of the skin and the skin will appear softer than before after treatment. However, for better results, re-treatments on a regular basis are required.
AHAs (Alpha Hydroxy Acids) vs. BHAs (Beta Hydroxy Acids)
Here we will discuss AHAs and BHAs (Beta Hydroxy Acids) relatively.
Values of AHAs:
Reduce the appearance of fine lines and wrinkles

Improve skin tone and texture

Re-energize the appearance of dull and lifeless skin
Values of BHA's:
Balance the oil content of your skin

Treat acne

Remove blackheads and whiteheads.
Application
For treating skin wrinkles and sunburns
Alpha hydroxy acid products contain lactic acid, tartaric acid and glycolic acid and 8% concentration is used. The alpha hydroxy acid has also been used in a 14% solution.
(Dosage: You can use the lotion which has AHA in which the above-mentioned concentration twice in a day.)
For lightening acne scars
Glycolic acid facial peels are used in the lightening of acne scars.
(Dosage: Peels are applied the first day for 2 minutes and then you can use it for a longer time (max 5 minutes). You can also use lotion which contains glycolic acid. After 6 times application, you feel your skin looking better than before.)
For lightening brown patches
This peeling program is to be done for 3 months in a row.
(Dosage: Use 10% of the glycolic acid mixed with a sunscreen to facial skin in the night for 2 weeks. 50% GA peel is to be applied three times to the face and left it for a period of 2-5 minutes each time. Stay with the first peel on the face for 2 minutes, second peel for 4 minutes and third for 5 minutes.)
Significance of AHAs in Acne Treatment
Acne occurs when the skin produces too much oil which leads to the clogging of the pores. AHAs do not help sebaceous glands to stop producing oil from the skin but it regenerates the top layer of the skin and peels off the dead skin cells and unclog the pores. Once the top dead skin layer peels off, new and clear skin forms.
AHAs work great with the combination of benzoyl peroxide to prevent pimples to form. First, one will feel irritation on a particular spot where AHA has been applied, but it will stop a pimple there to grow.
Guidelines
When you use an AHAs product, your skin becomes more prone to damage from the sun. It is highly recommended to use a high-quality sunscreen to protect your skin from the sun.
Side Effects
Skin irritation

Redness

Burning

Itching

Skin Discoloration
If the symptoms continue after you stop using the product for some time, try using a product that contains less of the AHA concentration. In case if it still occurs, contact a dermatologist.
If you have a dark complexion skin, consult your doctor before using an AHA or BHA. People with dark skin are at a higher risk for scarring and pigmentation than those who have pale complexions.