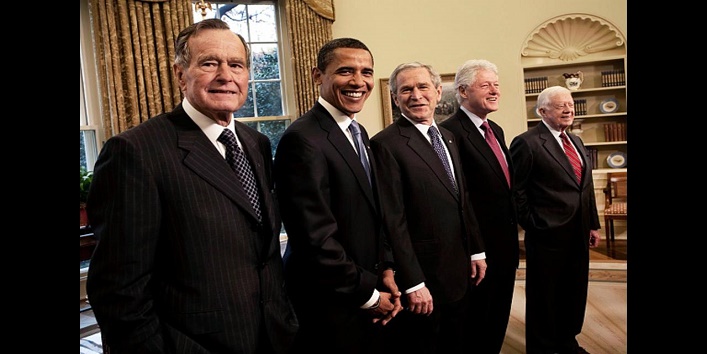 The US President is considered as the most powerful person in the world. Why? Because the person is the leader of that country, which is undoubtedly the strongest in the world. We often wonder how it feels to become the US president?
But, we never thought about the hard-work they put to reach that incomparable level. They didn't receive the position of the 'President' as a gift. Like all of us, they also started in a very ordinary way but they fought with their destiny and didn't stop until they reach a place where no one can separate their names from the history of America.
Let's look at some of the former US Presidents, who started way too differently.
1. George Washington (1789-1797)
When George Washington, the first president of US, was 16-year-old, he got the job of surveying the valley of Shenandoah in Virginia. The job of a Surveyor is to measure land, water, and airspace. After one year, he was appointed as the official surveyor of the Culpeper County. At the age of 21, Washington owned around 1,500 acres of land.
2. Abraham Lincoln (1861-1865)
The first job of Abraham Lincoln was in a general store. It was in New Salem, where he worked as a clerk. This may look like a lowly and simple job, but it worked to his advantage. Thanks to this store, he was able to build strong relationships with almost everyone in the town. Later, become the 16th president of the United States.
3. Andrew Johnson (1865-1869)
After Abraham Lincoln's assassination, Andrew became the 17th president of US because he was the vice president. He started his career at an early age as a tailor for his mother. Later, he moved to South Carolina and then Tennessee for a tailoring position.
4. Lyndon B. Johnson (1963-1969)
Lyndon B. Johnson, who became the 36th president of the US, worked as a goat herder on a farm of his uncle. Moreover, during his summer vacation, he shined shoes for some extra pocket money. That time he was 9-year-old.
5. Richard Nixon (1969-1974)
Richard Nixon, who became the 37th US president, plucked as well as dressed chickens for a butcher in Arizona. He also worked at a "Wheel of Fortune" gaming booth at a carnival.
6. Bill Clinton (1993-2001)
When Clinton was just 13-year-old, he started working in Arkansas as a grocer. When he convinced his boss to appoint him as a comic bookseller at the store, he helped the store to earn extra 100 Dollar, thanks to his skills. In the year 1993, Bill Clinton became the 42nd president of United States.
7. George W. Bush (2001-2009)
After completing MBA from Harvard, George W. Bush started a career as a landman for an oil company. There, his job was to search for likely sites so that the company can drill for oil. Later, he replaced Bill Clinton as the president of the United States.
8. Barack Obama (2009-2017)
During an interview with a magazine, former president Obama said that he used to work as an ice cream scooper for a Honolulu based Baskin-Robbins. He confessed that during that time, he ate too much of it.