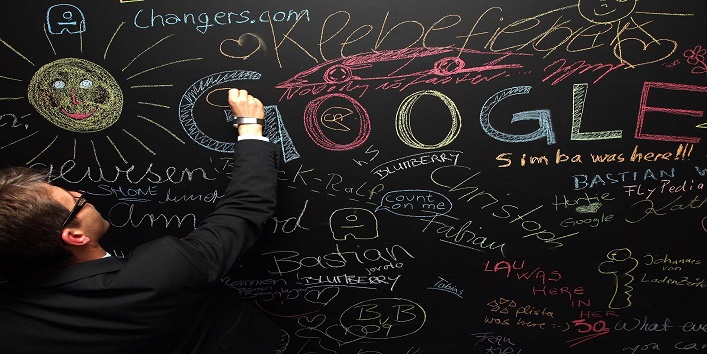 Google is known as one of the richest company in the world, earning a lot of profit in the entire technological field. Interestingly, despite its extreme popularity and amazingly beneficial features, it poses the biggest threat to security and privacy issues. You won't even believe that this biggest search engine is killing the sovereignty of individuals.
Now, you'll be anxious to know how can all this be possible.
As, this helpful search engine provides many kinds of user-friendly services along with its promising features and advanced security measures, winning everybody's trust. So, how can this trustworthy website be dangerous for anyone? Additionally, it also facilitates the users with many different services like analytics, free e-mail services, data storage and much more.
But, after reading these 8 risk facts your thoughts will change, you will come to know why you should fear of Google:
8. CEO Eric Schmidt is much more than an Engineer
Google CEO Eric Schmidt took over the charge of Google in 2001. He visualized the growth of entire Google empire from its beginning.
In order to demystify the company's monopolistic heights, firstly, we need to understand its CEO: Eric Schmidt, who was interested in politics from the very beginning of his career.
He is rumored to be connected with several government officials and some famous players also. Eric holds extraordinary engineering and management skills, and he clearly knows how to proceed further, in order to support the overall development of Google.
The main aim of this foundation seems to influence policy by "using its network of approved national security, foreign policy, and technology pundits to place hundreds of articles and op-eds per year."
7. Google is Even More Powerful Than People Imagine
At present, everybody knows how the company name became a verb, this was made possible due to its extraordinary features. However, all this didn't happen overnight. During 1998, the search rate was only about 500,000 searches per day.After 20 years, it increased up to more than 2.3 million searches per minute.
At present, more than 100,000,000,000 searches per month have been confirmed on this search engine. Up to 200 factors are analyzed to calculate this fraction.
Google's staggering power came into light when it went down for five minutes in 2013. This drop down resulted in an extensive decline of internet traffic by 40%.
6. Foreign Power Player
Google's ambitions are much larger as compared to other similar companies. It is clearly demonstrated by the fact of hiring a former US State Department Employee, to hold foreign policy issues.
Jarod Cohen was the previous advisor of Hillary Clinton and Secretaries of State Condoleezza Rice. He holds extraordinary skills as an expert giving solutions to counter unending radicalization, terrorism, and adverse effects of technology on mankind.
Google also created a think tank, with the addition of Cohen and named it Google Ideas. Now popular as Jigsaw, its goal is to understand "global challenges and applying technological solutions, from countering extremism, online censorship and cyber-attacks, to protecting access to information."
5. Connection Between Google and Foreign Government.
Many people are unaware of the Google's intimate connection and relationship with foreign government, which most often creates a lot of political and country-based issues.
At many times, rival companies have put allegations upon Google to alter their values and reputations giving false facts.
When there was a technological and financial slowdown in the working of Google in China, ethical reasons were stated by Google officials to combat their money and popularity based issues.
From that time, the association of Google with the Foreign Government and the intrinsic collaboration with authoritative people was confirmed.
4. Google's Role in Defense Industry
Google also plays a transitional role with the defense system. Many defense industries work in collaboration with Google to serve better to the government ensuring the firm security of citizens.
The Department of Homeland Security illustrated a fact regarding Defense Industrial Base stating that "the worldwide industrial complex that enables research and development, as well as design, production, delivery, and maintenance of military weapons systems, subsystems, and components or parts, to meet US military requirements."
3. Technology and System Change
Google also provides facts and evidence supporting various technological and government authoritative features.
It also gives detailed information regarding the system, government, politicians, political issues etc, so that people must get the exact information about system and officials.
This search engine is regularly updated by the aid of advanced technologies and latest applications.
Any technical error or system failure may be disastrous, leading to overall alterations in the web-based knowledge.
2. Shaping Minds
There are many such people who completely rely upon the internet to gain every kind of information. Whether it may be career-oriented, health-related, education-linked, knowledge-related or based upon any other subjective thing. Any kind of editorial mistake or database error may lead to deviation from actual facts and establishment of false knowledge and erroneous facts among the users.
1. Google's Future
Recently, Google has attained a lot of popularity and power, furnishing extravagant features and dozens of apps. This private company holds the biggest collection of information online and also provides us with various amazing applications of Android Apps and PC apps.
It is estimated that the company will increase its business and efficiency up to the highest level in future, giving tough competition to other similar organizations.