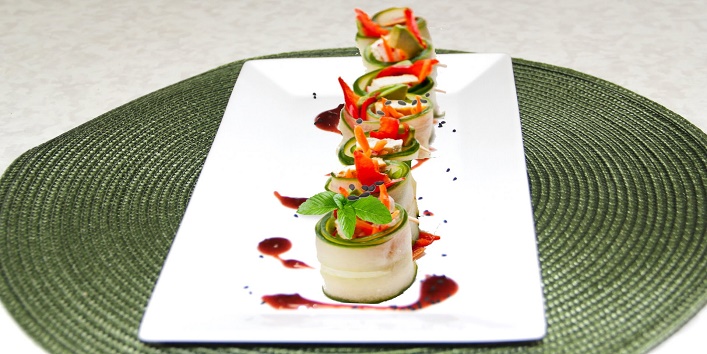 Junk food is an easy and quick way to quiet down our growling stomach. It's well understood that we don't have the patience as well as the energy to cook something for us after a hectic and lengthy work schedule. So, we grab whatever salty or sugary snacks we get in our drawers and sit on the front of the television. Yes, we do feel guilty about consuming those unhealthy food, but still we continue to do the same mistake again and again.
But, this way we are only trying to ruin our digestion and become disease prone easily. Would we want that? Absolutely not! So, we are here to help you figure out very tasty snacks which aren't unhealthy at all. Have a look at some delicious replacements to hush our noisy tummy:
1. Zucchini Chips
Yes, we love chips! So, go to the tasty and easier way and savor it just like your favorite bag of chips. Just cut thin slices of Zucchini and add few of your favorite seasonings and bake it. You are good to have them.
2. Rosemary Parmesan Popcorn
Want to eat popcorns while watching your favorite romantic movie? Avoid the oily corns, and switch to the homemade-crispy and fresh ones instead. Just add some parmesan on your popped popcorns and sprinkle few drops of rosemary oil on it. Keep it for 5 minutes and have your freshly cooked popcorns.
3. Frozen Healthy Banana Bites
If you're having a sweet tooth tonight, don't hork-in chocolates or pastries, just give yourself 5 minutes and you can make a perfect dessert at ease. Just smear the delicious peanut butter on the banana piece and top it with coconut or hemp seed. Take out your favorite Hershey's chocolate syrup and run it over this. It'll make you feel heavenly and you can have them as much as possible guilt-free.
4. Apple Chips
Have a sweeter form of chips. Trust me, this one has to win your heart and content your food craving completely. Just make thin slices of the apple and microwave them for 5-7 minutes. Your apple chips are ready in no time! You can also season it with some tangy toppings to bring the flavor up.
5. Miniature Pizza
Oh yes! You can very well have pizza even if you're a diet conscious person. This pizza is in a much different and tastier form because this is a unique form of pizza, it's a miniature version. If you can spare some time to cook yourself a tasty dinner, you can surely have fun with this dish. Firstly, bake the crust by combining the shredded cauliflower with mozzarella cheese, eggs and herbs. Add toppings of your choice for example, tomato, bell pepper, etc. and bake them again. And your dinner is served.
6. Frozen Yogurt Fruit Bites
All those yoghurt fans, try this super-quick, healthy and tasty dessert. In a silicon cup, place yoghurt and add fruits in it. Put them in the freezer and let it freeze overnight. Have your favorite yoghurt yummy treats as your perfect breakfast.
7. Cucumber Roll-ups
In the summer time, you would want a tasty and refreshing snack item. If you have cucumber with you, this can fix your hunger craving in a much healthy way. All you need to do is, slice the cucumber into thin and flexible strips. Put some crumbled feta, chopped tomatoes, red pepper and salt on the cucumber layer. Roll the whole thing and insert a toothpick on it. Your yummy dish is ready to be eaten.
8. Chocolate Mousse
Your favorite chocolate mousse can have a little twist in tale too, and believe me, you won't be able to figure out the change in taste. Just blend Vanilla, maple syrup, cacao and avocado in a blender. Add some water and make a thick paste, and put it in the refrigerator. Your relishing mousse is ready! You can add strawberries to season it.
Have a Healthy and Tasty Eating!