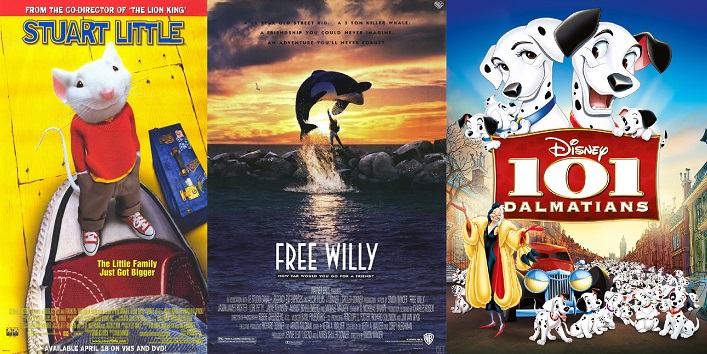 In the recent days, we have witnessed some amazing animation work like never before. In the era of globalization, even the bed time stories are getting converted into small animated clips in the form of cartoons which mainly focus on ethics and moral lessons. Cartoons have always been the best way to make your children understand about something. And animals are consistently popular among kids. So, here we bring to you some classic animal movies with moral lessons.
1. Spirit: Stallion of the Cimarron
This movie is directed by Kelly Asbury and Lorna Cook. The plot of this movie is based on the story of a wild stallion who travels over the borders of the old west and be friends with a human and also finds his true love with a mare.
2. Two Brothers
This is an amazing movie produced by Jean Jacques Annaud. The story of the movie is based on the two tiger cubs. One of them is bold and powerful and the other is shy and calm. And one day they got separated when they are sold to the circus and after years they reunite because of stone-hearted explorer.
3. Stuart Little
This movie is directed by Rob Minkoff. The plot of the movie is based on the Little family who adopts a mouse, Stuart, a brother for their son. Stuart can talk and behaves like a normal human. But his presence is not appreciated by the house cat, Snowbell.
4. Shiloh
This movie is directed by Chip Rosenbloom. The plot of the movie is set on how young Marty rescue the dog from his cruel owner Judd.
5. 101 Dalmatians
This movie is directed by Stephen Herek. The plot of the story is about the couple who are on a journey to rescue the puppies of the Dalmatians that they own whom the crazy lady wants to use for her fur coat.
6. My dog Skip
This movie is produced by Jay Russell. The premise of the story is based on back in 1942, when a shy boy who is presented with a Jack Russell terrier, later becomes his best friend and protected him against the bullies.
7. Into the west
Into the West is directed by Mike Newell and the plot of the movie is about when Ward who is the Grandpa of two young grandchildren give them a horse he found. The kids keep the horse in their block flat from where it gets stolen and later the young boys begin the journey to find the missing horse and flee on it back.
8. Free Willy
This beautiful movie is directed by Simon Wincer. The plot of the movie is about how a street kid Jesse become friend with a killer whale Willy and risk everything to make him free from the selfish owners.