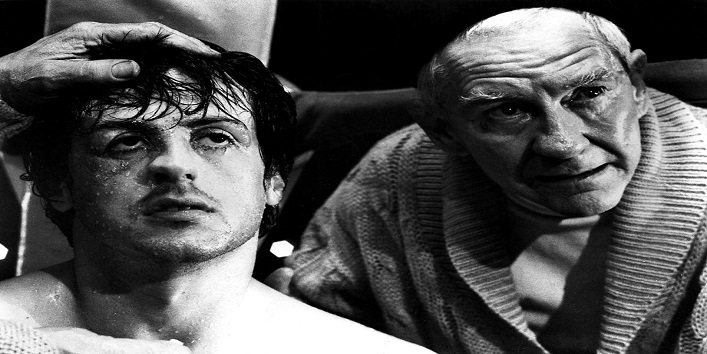 We all love to watch sports movies. Whether it is related to Football, Baseball, Basketball, Boxing or any other sport. But have you ever thought what makes these films so attractive?
Well, there is no murder-mystery, gang war, bullets, crashing cars, hot models, bold scenes, etc. but still we want to watch the movies. Why? There are few good reasons.
A good sports movie inspires you when you watch the individual players come together to accomplish something bigger because none of them is capable enough to achieve that alone. And that what we love about sports movies.
It is so amazing how the central character of the film develops relationships with his teammates, how the teammates pick them up and at the same time encourage each other when they face failure.
Most of these sports movies try to portray the ideal teammates who help you to stand up and pat on your back when you fail. Let's look at the 10 amazing sports movies which you just can't afford to miss.
1. ROCKY
This is the story of an average boxer – Rocky Balboa, who gets an opportunity to fight with Apollo Creed, a heavyweight champion. In an attempt to earn respect and fame, Rocky jumps into the boxing ring, but unaware that the road is not that smooth.
2. BULL DURHAM
This movie comes with a comedy flavor. This is a story about a love triangle between 2 players of a poor baseball team and a groupie who picks one talented player each year to educate as well as seduce.
3. RAGING BULL
It is a story of a middleweight boxer, who rises through the ranks to complete his first shot for the title. However, in his personal life, he is overloaded with distrust, jealousy and anger, which affects his professional growth.
4. FIELD OF DREAMS
This movie is a perfect blend of fantasy, sports and drama. It has been directed by Phil Alden Robinson, who also penned the screenplay. The story is about a corn farmer, who hear voices and understands them as a command to construct a baseball diamond in his fields.
5. CHARIOTS OF FIRE
Released in 1981, this is a story of two men who race for the gold medal during the 1924 Olympics. While one person runs for his belief, the other one takes part to leave the prejudice behind him.
6. A LEAGUE OF THEIR OWN
Dottie & Kit were enlisted in a professional baseball league along with numerous other women. Jimmy, a former star but now an alcoholic, is forced to manage them. What will happen? Can Jimmy transform these two in a team?
7. MIRACLE
It is a sports film which tells the real story of Herb Brooks – the player-turned-coach who headed the 1980 U.S. Olympic hockey side. His team went on to list victory over the favorite invincible Russian team.