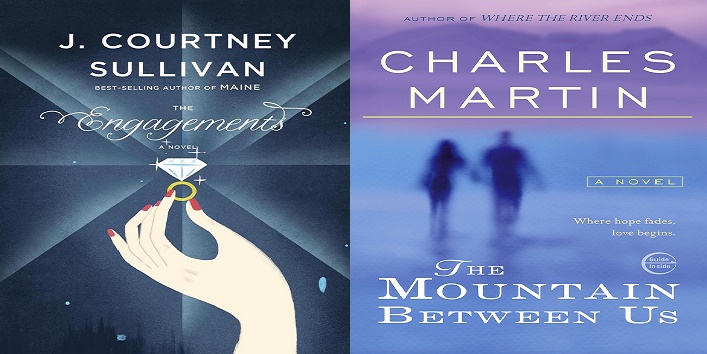 Nowadays it is a trend to convert the bestselling books into a movie. But if you read it once before you watch the movie then might give a better perspective and understanding to actually realize what the story wants to convey to you.
Here is the list of romantic books that one should read before watching the flick:
1. The Engagements
This best-selling romantic book is written by J. Courtney Sullivan. The book is about the how a diamond ring from the year 1930 to the present entwine five relationships in the way. The cast of the movie based on this book in not yet decided but it is confirmed that Reese Witherspoon will produce it.
2. Fifty Shades Freed
This is the final book of the bestselling Fifty Shades saga in which Christian and Ana will sail through the most dangerous and unfaithful relationship. In the last installment of the movie, Jamie Dorman and Dakota Johnson will again be seen in the characters of Christian and Ana and there is also news about new people joining the franchise.
3. The Night Circus
This amazing masterpiece is written by Erin Morgenstern. The story follows two magicians who compete against each other in the mysterious circus that runs only after nightfall till dawn. There is no news about the casting till now but there is a buzz that Jane Eyre and writer Moira Buffini will soon write the script.
4. Beautiful Ruins
This book is written by Jess Walter who has set the story back in 1962 at an Italian coast and shows the ups and downs in a love affair and how they reunite and end at Hollywood after years. According to sources, Imogen Poots will play the role of Dee Moray and the movie will be produced by Sam Mendes, who is hinted to direct the film too.
5. All the Bright Places
This juvenile adult novel is written by Jennifer Niven in which a girl, Violet falls for a guy, Finch who has a motive to kill her. According to the buzz, Elle Fanning is going to act and Miguel Arteta is directing the movie.
6. The Mountain Between Us
This amazing story is written by Charles Martin in which two strangers have to depend on each other for survival after the charter plane crash. According to the news, Idris Elba will play the lead role of male opposite to Kate Winslet.
7. Americanah
This novel is by Chimamanda Ngozi Adichie which shows the love between two young Nigerians who face problems of long distance relationship and immigration when one of them moves to America. According to the news, Lupita Nyong'o will play the female lead opposite to David Oyelowo and Brad Pitt will be producing the movie.