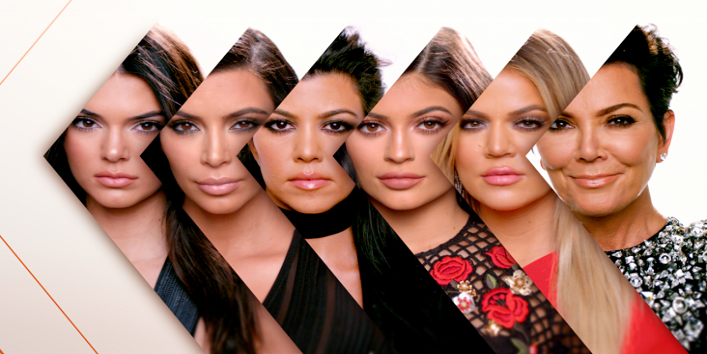 Do you remember that 2011 episode of Keeping up with Kardashians when Kris Jenner peed in her pants? Khloe was well aware that her mom is suffering from urinary incontinence problem, still she didn't allow her mother to go to the bathroom for peeing and as a result she had to answer the nature's call in her pants. There are many weirdest incidents like this which have happened on the sets of Keeping up with the Kardashians during its 11 seasons. In fact, they are even weirder than this episode with Kris Jenner at KUWTK.
Since Kardashians have already launched the 12th season of Keeping up With the Kardashians (KUWTK) on E! TV. We want to remind you here about those weirdest moments which have happened in the history of KUWTK since it started in 2006.
Scroll down the page to get a bit of it.
1. Snake prank with Kim's then-husband Kris Humphries
The incident we are discussing here has happened in the second season of Keeping Up with the Kardashians when Elder sister Khloe and younger sister Khloe decided to play pranks with Kim Kardashian's then-husband Kris Humphries. Since Kim was out with Kris Jenner on a promotional trip, they decided to put a snake on his bed and they also covered his room with toilet paper. Since the snake slithered on the sheets. Trembling with fear, both sisters came out crying. So this snake idea for enlightening Humphries proved costly for them.
2. When father, Bruce discusses q***f and p***y with his daughter Khloe
This incident happened on KUWTK sets during the sixth season in 2011. It was during this episode when Khloe taught a new word to her father Bruce. She told him q***f, Bruce replied what is that the Khloe answered: "When your vagina makes a farting noise." Bruce helped her daughter by saying then "Why don¹t you say a p***y fart" I have been from around long enough, I know it.
Actually, the issue stemmed when Bruce caught 15-year-old Kendall taking birth pills and he complained to Kris. Kris told her back that she is still a virgin, she is taking pills for preventing muscle cramps. It was during this when Khloe entered into the scene and she promised her dad to check out the matter.
3. When Scott complained Kourtney has a bad body odor
This incident occurred during the third season of the reality Show in 2008. Scott was talking to Khloe that something stinks in Miami and that he feels in Kourtney. Khloe talked tough to Scott over this. But he remained firm on what he said. Scott told Khloe that her sisters do not want to use deodorant because she feels it will harm her breast milk.
4. When they played a contest whose privates taste good
This incident has also occurred in 2008 during the third season of this reality show when Khloe told her sisters that she read somewhere pineapple juice makes private organs taste sweeter. Kourtney and Kim agreed to take part in this weird contest. They downed the juice on cloth, wiped it on their organs and came back. Kim went on to win this contest.
'I can¹t believe I¹m doing this," Kim said, Khloe refused to help her, saying, "This isn¹t your relationship." Kim wound up with some drunken Scott footage and Kourtney was furious!
5. Kim sent a detective after Scott
This incident is also of the third season when Kim decided to spy Kourtney's husband Scott through a private detective. Kim asked Jake to follow him in Miami. 'I can¹t believe I¹m doing this," Kim said, Khloe confronted her saying "This isn¹t your relationship." Kim showed Kourtney a footage in which Scott was drinking badly this made her very furious.
6. When Rob Kardashian took Viagra accidently
It was Season 4 and Rob was not knowing it is Viagra. Actually, Kris had added this drug to the coffee cup of Bruce and Robert went to drink it on accidently. Since he fell asleep and he woke up in the afternoon with an erection in his organ.
7. When Lamar Gifted Khloe a toy Giraffe
During the sixth season, Lamar gifted Khloe a toy giraffe and she loved it absolutely. Now Kourtney and Khloe sat on its back and started playing with it. Kim saw it and announced on loudspeaker "You guys are so annoying!" Khloe and Kourtney jumped and galloped out of the room in a jiffy.
8. When Kardashians chose burial places for themselves
You may not even believe this thing has also happened on the sets of Keeping up with the Kardashian reality show. Kris talked to her daughters and husband Kris about where they will be buried after dying. All of the members took it as a genuine concern, went to the graveyard and selected places of their Burial.
9. When Kris asked for a facelift and cried eyes out at Surgeons clinic
Just before Kim's wedding with Kris Humphries, Kris Jenner told her daughters that she needs a facelift like them. "I needed a little freshening up for the wedding. Just doing what a girl's gotta do!"," Kris said. She was taken to a plastic surgeon. But as soon as she was taken inside, she started crying. Her daughters tried to comfort her, but all in vain and she was brought back without surgery.
10. When Kim used Kourtney's milk for treating itchy legs
Once Kim Kardashian had some skin problem and she stole the milk of her sisters and applied it on itchy legs and then told her friend Jonathan Cheban "It¹s so much better!"
11. When Scott accuses Rob of having sex with his girlfriend
This happened in 2009 when Scott accused Rob of having sex with his girlfriend and eventually asked Kourtney she should do the same with him. Kourtney donned a dildo and asked Scott to experience it first, Scott refused and dropped the idea.
https://www.youtube.com/watch?v=VuKuLgw5LV4